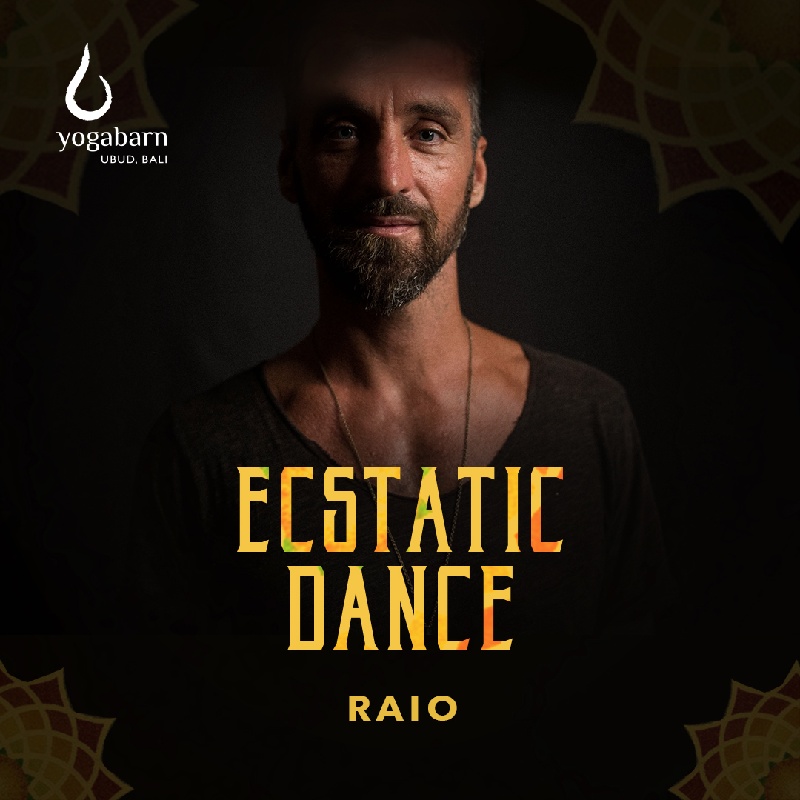 Venue Details
The Yoga Barn
Jln. Raya Pengosekan
Ubud, Bali, 80571
Sunday Ecstatic Dance | 11.30 AM - 1:30 PM
Sunday August 14th with Raio
A producer, musician and DJ who's been uplifting the tribe in Bali for a dozen years.  An eco-community steward and co-founder of the BaliSpirit Festival, and has played a key role in the evolution on the conscious dance scene on the island.
A respected leader in the ecstatic dance and contemporary ceremony communities, Raio's touring has taken him to influential conscious festivals around the world.

Sunday Ecstatic Dance | 11.30 AM - 1:30 PM
Book your PRIORITY spot online for FREE & then purchase your wrist ticket on-site the day of the event.
NOTE:  If you see "SOLD OUT," this means on-line pre-sales are sold out, but you can still try your luck for a walk-in spot on the day!  We hope to see you on the dance floor!
Megatix reservations are given priority only until 11:15 am. 
For priority entrance to dance UPSTAIRS, you must RESERVE IN ADVANCE & then pay for your Wrist Ticket at the Yoga Barn Lower Reception by 11:15 am!  Wrist Tickets NOT purchased by 11:15 will no longer be considered priority and your reservation will be shifted to WALK-IN/WAITLIST.**
Please note that the UPSTAIRS STUDIO (STUDIO NYOMAN) has limited capacity and once that capacity is reached you will be relegated to the downstairs studio.  TO ACCESS THE UPSTAIRS, RESERVING IN ADVANCE IS HIGHLY RECOMMENDED.
PRICES:
 
PRIORITY RESERVATION VIA MEGATIX:
UPSTAIRS @ STUDIO NYOMAN:  IDR 130,000
**KITAS rates & class cards or any kind are NOT ACCEPTED**
DOWNSTAIRS @ STUDIO KETUT: IDR 90,000
**KITAS rates & 3 / 5 / 10 / 20 class cards accepted. Unlimited class cards are NOT ACCEPTED**
PRICING TERMS: 
Pre-reserve your space upstairs in advance, pay at reception the day of event

Pay by cash or credit card or use a 3/5/10/20 class card to dance downstairs

Unlimited Class Cards are NOT ACCEPTED Ecstatic Dance, no exceptions
NO REFUNDS.  TRANSFERS ALLOWED.
For last-minute updates about Ecstatic Dance, please join the YB Facebook Group or check our online schedule for the current schedule to see if this class has been removed/canceled.  https://www.facebook.com/groups/1595603700727614 
Please check our online schedule for the current schedule to see if this class has been removed/canceled.
Each Sunday, in addition to Ecstatic Dance there is an amazing array of classes to choose from and you can stay after dance for our home-cooked Balinese Buffet lunch at Garden Kafe.
85K++ for adults

50K++ for kids


 
Don't forget to enjoy our saltwater pool @ The Nest.  The perfect cool-down after dance!  Entrance Fee:  50k (includes pool towel)
What is Ecstatic Dance? 
Ecstatic Dance is a global movement active around the world and was launched for the first time in Bali in 2009 by Yoga Barn co-founder Charley Patton.
The Yoga Barn Friday Ecstatic Dance is an all-ages community gathering where you can simply BE yourself and experience freedom through the rhythms of global beats and movement.
Please, come as you are to experience this substance-free, uplifting and happy space of dance and free movement - let your inhibitions melt away.  
Ecstatic Dance Etiquette & Health Protocols
During Ecstatic Dance at the Yoga Barn, our DJ will set the mood for you to experience your inner magic through free-form movement.  
Please respect the following Etiquette & Protocols to keep the dance floor a safe space for all members of our Ubud community.
Protocols: 
Consider your physical condition before entering The Yoga Barn. If you feel unwell with a slight fever, cough or cold, please refrain from joining classes until you feel better.
Wash your hands before entering the Dance Floor and consider bringing a small towel for your sweat. You will sweat! 
Etiquette:
Leave your shoes downstairs. Dance barefoot
Choose to dance upstairs or downstairs, there are two dancefloors to choose from
Clothes are to be worn – no nakedness please
Keep the dance floor safe for everyone.  NO CONTACT without consent
Respect the space of other dancers, leave room for others to move
Dance Silently. There should be NO TALKING on the dance floor; whispering on the porch is ok
NO PHONE CALLS.  Leave your phones turned off please
NO PHOTOGRAPHY & NO VIDEOGRAPHY of the dancing crowd unless agreed to by the management in advance
NO Alcohol or Drugs permitted
Please accept that The Yoga Barn Security will perform a temperature check on your wrist at the parking lot. Appreciate them, they are doing their job
ECSTATIC DANCE is an internal experience. Dance yourself free & let go, no need to try and impress others, this experience is all for you.  ENJOY!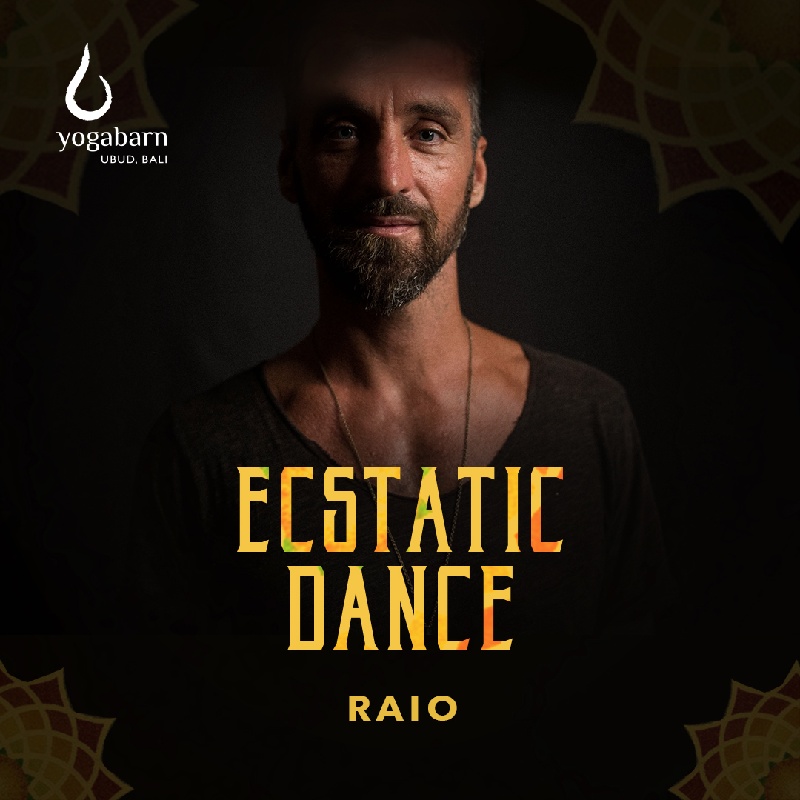 Venue Details
The Yoga Barn
Jln. Raya Pengosekan
Ubud, Bali, 80571