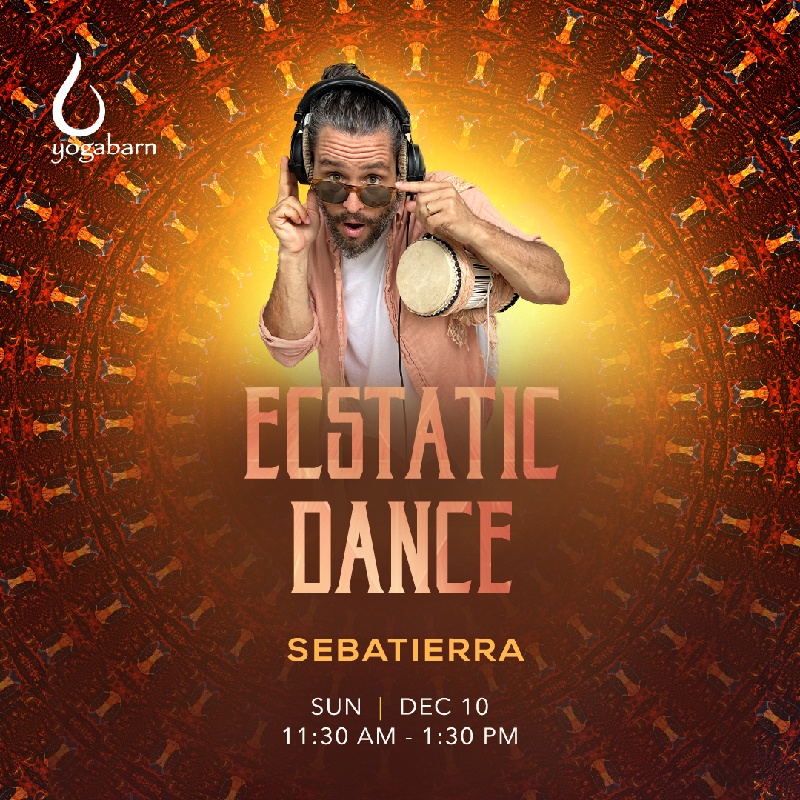 Venue Details
The Yoga Barn
The Yoga Barn
Ubud, Bali, 80571
December 10th featuring SEBATIERRA
 
Sebastian Cuevas a.k.a. Sebatierra is a Chilean multi-instrumentalist, songwriter, music producer and sound healer based in Ubud. 
Founder of several iconic bands from Chile, he has also collaborated with different national and international bands recording and producing, supporting healing music for more than 20 years, performing world-wide in several festivals.
Sunday | 11:30 AM - 1:30 PM 
Ecstatic Dance is an internal experience. Dance yourself free & let go, this experience is all for YOU.
IMPORTANT  ECSTATIC DANCE ETIQUETTE!
Please respect these rules.
Note STUDIO CAPACITY/LIMITATIONS:
Upstairs (capacity 170)  150K 
Downstairs (capacity 100) 100K
Those dancing downstairs will NOT BE ABLE TO COME UPSTAIRS once upstairs capacity is reached upstairs. 
RESPECT the staff & eachother.
STAY SILENT. NO TALKING in the studios, or on the upper deck.  
(Talking allowed outside only)
NO PHONES! NO PHOTOGRAPHY & NO VIDEOGRAPHY.  
Leave your phones turned off & in your bags 
(exceptions are made only with permission from the management).
NO alcohol or altering substances permitted.
RESPECT THE DRESS CODE: Bikinis / Gstrings /   Speedos / Nipple Clips are not clothing.... 
PLEASE WEAR CLOTHES, this is not a play party.
NO SHOES on the dance floor.
RESPECT PERSONAL BOUNDARIES, yours and others.
BE ACCOUNTABLE FOR YOUR ACTIONS, it takes two to Tango.
IMPORTANT:
Aggressive behaviour will NOT BE TOLERATED, and you will be asked to leave if you violate any of the above Rules & Etiquette.
The Yoga Barn security & management team is looking out for your safety. Appreciate them & listen to them, they are doing their job.
Please do your part to keep the dance floor a safe space for all members of our community.
Enjoy!
______________
BOOK & PAY ONLINE:
Megatix is available to purchase on the Monday before the event.
Prices for Ecstatic Dance: 
Sunday Ecstatic Dance | 11:30am - 1:30pm | IDR 150,000 (includes Megatix fees)
Online Megatix:  IDR 150,000 (upstairs - Nyoman) - credit card only
Walk-in: IDR 150,000 (upstairs - Nyoman) - Cash only
Walk-in: IDR 100,000 (downstairs - Ketut)  Cash only
(Walk-in Guests please arrive 1 hour before)
Book and Pay for your spot online, check-in, and pick up your wristband on-site the day of the event from 8:00 am-11:00 am.
NOTES ON CAPACITY:
There are TWO STUDIOS to dance in: UPSTAIRS / NYOMAN & DOWNSTAIRS / KETUT. 
The upstairs studio has a maximum capacity of 170 people. 
The downstairs studio has a maximum capacity of 100 people
ONCE THOSE CAPACITIES ARE HIT the doors will be considered closed.
TO ACCESS THE UPSTAIRS, PURCHASING IN ADVANCE, ON MEGATIX, IS HIGHLY RECOMMENDED.
When attempting a purchase through Megatix, if the dance appears to be SOLD OUT, it's actually NOT sold out. 
It actually means that PRE-SALES are sold out, and that the only other tickets available are WALK-IN.  Usually there are still approximately 50 spaces left for upstairs and at least 75 for downstairs.  
THERE IS PLENTY OF ROOM FOR YOU. So if you miss the pre-sales, just walk-in and pay at reception.. 

NO REFUNDS.  TRANSFERS ARE ALLOWED WITHIN 14 DAYS. 
To transfer your ticket, contact us at  [email protected].
CHECK-IN:
Simple and smooth check-in! No more lining up!
Show your e-ticket at the reception desk to pick up your wristband!
The earlier you come, the faster check-in gets.
Check-in on Sundays, for those with online tickets is open from 8:00am - 11.30am
______________
Each Friday & Sunday, in addition to Ecstatic Dance there is an amazing array of classes to choose from.  Please check our online schedule for the current schedule to see if Ecstatic Dance has been removed/cancelled.  
Our Garden Kafe has a freshly prepared Buffet Lunch on Sundays and is open until 10:00 pm every Friday for you to enjoy a pre-dance or  post-dance meal. 
 
MORE ABOUT ECSTATIC DANCE:
Ecstatic Dance is a global movement active around the world and was launched for the first time in Bali in 2009 by Yoga Barn co-founder Charley Patton.
The Yoga Barn Friday Ecstatic Dance is an all-ages community gathering where you can simply BE yourself and experience freedom through the rhythms of global beats and movement.
Please, come as you are to experience this substance-free, uplifting and happy space of dance and free movement - let your inhibitions melt away. 
During Ecstatic Dance at the Yoga Barn, our DJ will set the mood for you to experience your inner magic through free-form movement.  
Please respect the above Etiquette & Protocols to keep the dance floor a safe space for all members of our Ubud community.
ECSTATIC DANCE is an internal experience. Dance yourself free & let go, no need to try and impress others, this experience is all for you.  
ENJOY!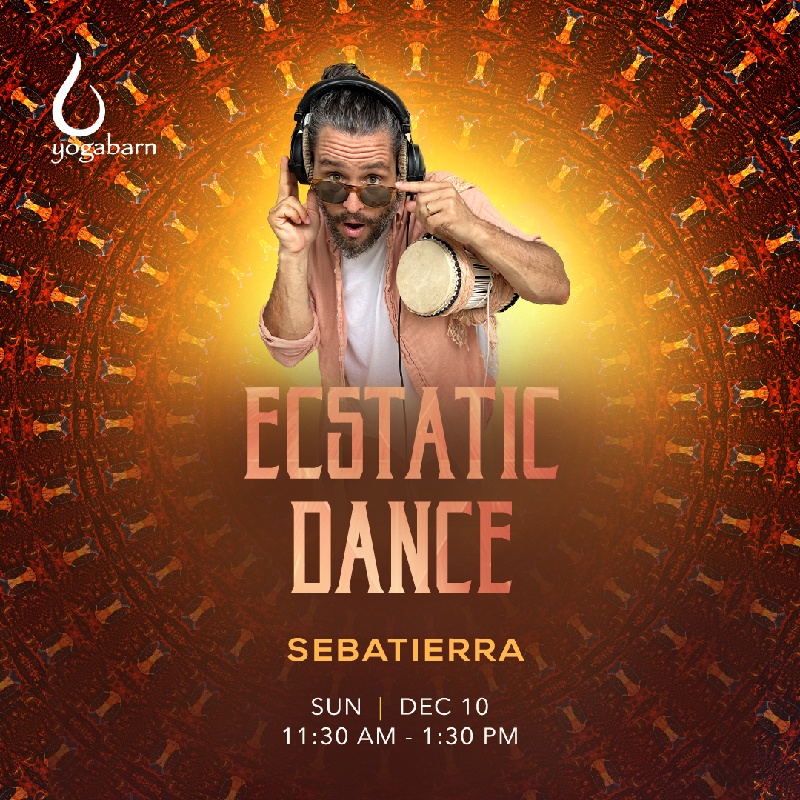 Venue Details
The Yoga Barn
The Yoga Barn
Ubud, Bali, 80571