NYE with ANDREW RAYEL
21+
03:00pm, Sat 31st Dec 2022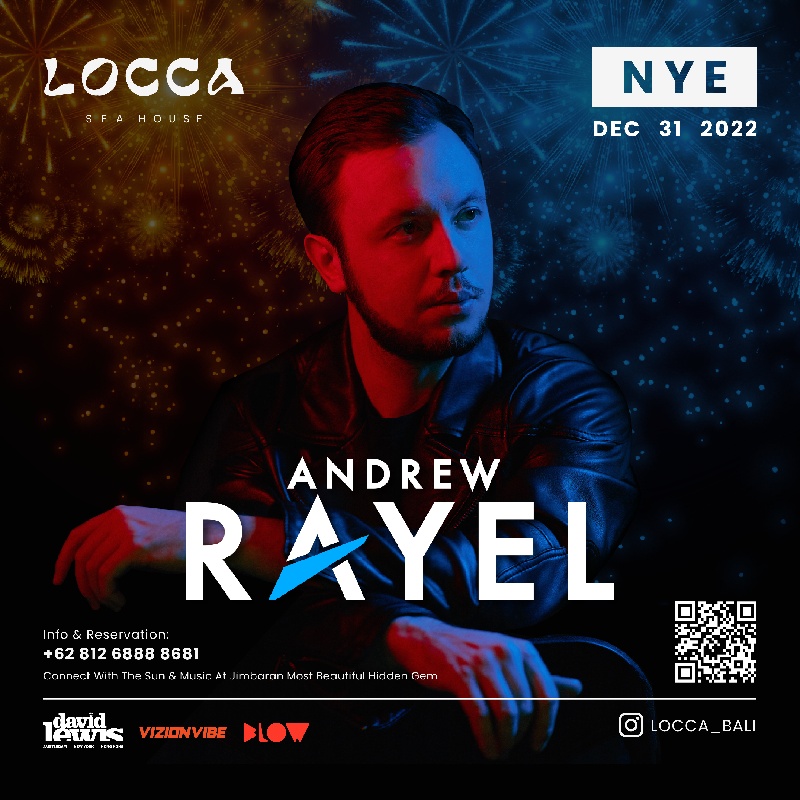 Venue Details
Locca Sea House
Locca Sea House
Jimbaran, Bali, 80361
NYE with ANDREW RAYEL
21+
03:00pm, Sat 31st Dec 2022
LOCCA Sea House presents NEW YEAR'S EVE Celebration with the One in A Million, ANDREW RAYEL. Spend your New Year's Eve under the sky at the most beautiful Sea House at the South of Bali and join the party! 
Table bookings contact: +62 812 6888 8681
More about the artist:
Andrew Rayel
has been alternately referred to as "the modern day Mozart," "the next Armin van Buuren," "the pride of Moldova." Considered a rare talent even in the highly competitive field of tech-savvy global DJs and producers, RAYEL is a classically trained pianist and musician whose soaring melodies and original compositions have the power to move all who listen. Possessing an otherworldly talent that draws fans from beyond the world of electronic dance music, RAYEL is also a workaholic, constantly striving to master his craft.
Born Andrei Rata in 1992 in Moldova, RAYEL's talent as a musician is innate and he comes at music composition with the open-minded attitude of youth backed by an education in music theory. He is the example of the next-generation of electronic dance music (EDM) producers. At age 13, RAYEL began producing original music, and today, his signature sound can be described as being melody-driven, piano-based, harmonic in tone and euphoric in feeling.
Said RAYEL of his choice to focus on the genre of electronic music known as trance, "Trance was the perfect solution as it is a combination of melody, harmony and energy, elements that I prefer the most."
RAYEL's big break came in 2012 when his music caught the attention of Armin van Buuren. Van Buuren in turn featured RAYEL's music on the former's wildly successful global radio show, 'A State of Trance' (ASOT), exposing a whole new world of listeners to the young Moldovan's sounds. RAYEL's early tracks, "550 Senta," "How Do I Know" featuring Jano, "Aeon of Revenge," "Aether," "Deflagration," "Musa" and "Zeus" all made it onto the ASOT radio show and those tracks were often voted "Tune of the Week" and "Future Favorite" by listeners.
Soon, Armada Music sub-labels A State of Trance and Armind were releasing RAYEL's original tracks and remixes and he became a go-to producer when high-quality remixes were in urgent demand. RAYEL has remixed Hardwell, Markus Schulz, Dash Berlin, Tiësto, W&W, Zedd, Bobina and music by many other artists including van Buuren himself. RAYEL's atmospheric signature has helped earn him praise and support amongst fellow global DJs and fans alike resulting in mainstream festival and underground club popularity. More current remixes include the ANDREW RAYEL remixes of Armin van Buuren's "Embrace" and Rising Star featuring Betsie Larkin's "Again."
As a DJ, ANDREW RAYEL exudes an unbridled enthusiasm for the music he plays and his onstage performances are electric and filled with physical energy. Drenched in a well-earned sweat after every set, RAYEL earns his position as the band-leader of the crowd before him, stirring up their passion as much with his music selection as with his bodily vigor. He has DJ'd the world's biggest festivals, including: Ultra Music Festival in Miami; TomorrowLand in Belgium and TomorrowWorld in Atlanta; Stereosonic in Australia; Global Gathering in the UK and other countries; Electric Daisy Carnival in Las Vegas; Electric Zoo in New York; Transmission Festival in various countries; Ministry of Sound in the UK; Dreamstate in San Bernardino; Electronic Family in Amsterdam; Zoukout in Singapore; and Together Festival in Thailand. RAYEL is also a regular on the lineup at various ASOT stages around the world. Nightclub residencies see ANDREW RAYEL onstage at superclubs including: Marquee Nightclub & Dayclub in Las Vegas; Marquee and LAVO in New
York; Ushuaïa Beach Club in Ibiza; Zouk in Singapore and Kuala Lumpur; Escape in Amsterdam; and Ministry of Sound in London.
In a track-driven era, the work that goes into composing a full-length studio album is often more difficult than it's worth, hence the dearth of truly outstanding artist albums by electronic dance music producers. RAYEL's was an exception. His debut studio album, Find Your Harmony (Armada), was released in 2014 and it contained 18 stellar tracks and songs so strong as to force the entire industry to sit up and take notice. That album brought music-lovers the now trance classics, "Dark Warrior," "One In A Million" featuring Jonathan Mendelsohn, "Miracles" featuring Christian Burns, "Daylight" featuring Jonny Rose and others. The Moments studio album will again spotlight Jonathan Mendelsohn with the addition of trance music stalwarts Emma Hewitt, Christina Novelli and Eric Lumiere, among others.
RAYEL's Find Your Harmony album was the inspiration for his current radio show of the same name. The 'Find Your Harmony' radio show regularly draws listeners from around the world and features ANDREW RAYEL sharing his latest musical finds with his listeners, building new fans each week with his carefully curated show.
In between studio albums, RAYEL has kept a frantic production pace in-between touring with singles to slay the dancefloor, including, "Mimesis" with Alexander Popov, "Chased" with Mark Sixma, "EIFORYA" with Armin van Buuren, "Take It All" with Jochen Miller and more.
ANDREW RAYEL's music appeals to a wide audience and he's a darling of dance radio. In the U.S., RAYEL's music, full DJ sets and interviews have been broadcast on SiriusXM Radio, Dash Radio, Nexus Radio and FM radio stations including KLUC-FM Las Vegas, WPRO-FM Providence, Radio 105 Miami, Evolution Radio | iHeartRadio and many other radio stations.
In 2016, RAYEL released a series of singles from his hotly anticipated sophomoric studio album, Moments, which is due for release in 2017. Those singles included "Winterburn" with Digital X featuring Sylvia Tosun, "Once In A Lifetime Love" featuring Kristina Antuna, "Epiphany" and "All Systems Down" with KhoMha.
ANDREW RAYEL conquered 2017 with the release of his Moments album and namesake world tour that sold-out in nearly every venue to which the tour traveled. The Moments tour saw RAYEL push himself out of his comfort zone with intricately produced performances that included custom-designed visuals and choreography all set to original ANDREW RAYEL music. In the fall of 2017, ANDREW RAYEL announced the launch of his very own record label, inHarmony Music, distributed by Armada Music and with the first single being, "Mass Effect." As label chief and head of A&R for inHarmony Music, RAYEL is now able to do for aspiring producers what Armin van Buuren did for RAYEL years ago. The circle is complete and music-lovers can look forward to an abundance of lovingly curated new releases ahead.
2018 continued to be another successful and growing year for ANDREW RAYEL with several single releases that stoles the hearts of dance music lovers such as "Horizons" , "In The Dark", "Trance Reborn", as well as the celebrations of Find Your Harmony 100 episodes with sold out shows in Moldova & Los Angeles.
2019 is off to a big start for ANDREW RAYEL, with already scoring a #1 Trance Beatport chart for his collaboration with NWYR "The Melody" released on Armind Recordings, as well as the pleasure of remixing the official A State Of Trance 900anthem release, and a huge Find Your Harmony 150 celebrations coming up this year.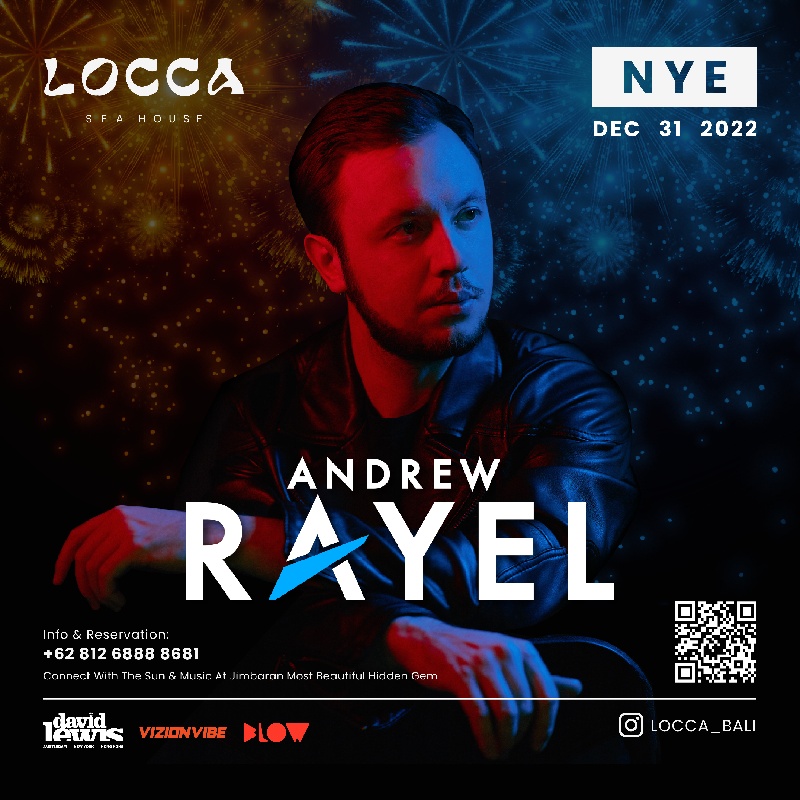 Venue Details
Locca Sea House
Locca Sea House
Jimbaran, Bali, 80361