Spiritually Incorrect: Live and Uncensored
07:30pm, Wed 14th Jun 2023 - 09:00pm, Wed 14th Jun
This event has already taken place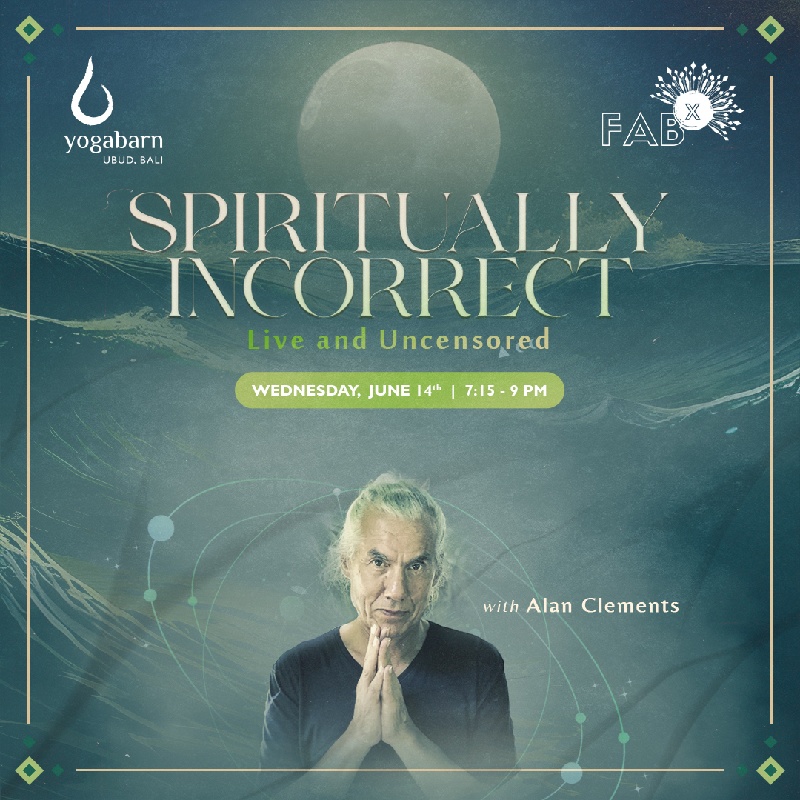 Venue Details
The Yoga Barn
The Yoga Barn
Ubud, Bali, 80571
Spiritually Incorrect: Live and Uncensored
07:30pm, Wed 14th Jun 2023 - 09:00pm, Wed 14th Jun 2023
Online ticket reservations are now closed. | Please note there will be some tickets at the door. | Come early and put your name on the wait list. | First come, first served.

In a night of spiritual-political satire and activist entertainment, Clements ignites conscience by celebrating freedom of expression and the power of the human heart. A former director of Amnesty International was moved to call Clements "one of the most compelling voices of our times."
Critics have described Alan's spoken word performances as "existentially cathartic" and "enthralling and hallucinogenic", as well as "a brilliant deconstruction of spiritual and cultural propaganda that addresses head-on the Orwellian insanity of lies and indoctrination, blind obedience, toxic patriarchy, the cult of war, climate change, artificial intelligence, psychedelic-assisted revolution, Davosian-driven totalitarianism and Global Oligarchy, and the hyper-commercialization of consciousness, (bad) drugs and domination."
As a former Buddhist monk in dictatorship-ravaged-Burma and a journalist in areas of extreme conflict, including the former Yugoslavia, Clements riffs on issues of violence and nonviolence, compassion and greed, servitude and freedom, meditation and indoctrination, from his personal experience. With a rare satirical humor, he gives his audiences a captivating expression on how WE — the PEOPLE — can safeguard ourselves from spiritual and political propaganda. And in so doing, relearn active citizenry by liberating our own minds from fear, apathy, greed and cynicism.
NOTES:
If you have any issues with online payments, please email 

[email protected]

 or WhatsApp The Yoga Barn Hotline (+62) 811 3983 789  We're here to help!
Registration and payment can also be made at The Yoga Barn Reception
If you see ticket sales are closed for the Event, contact us by WhatsApp to see if there is still space available!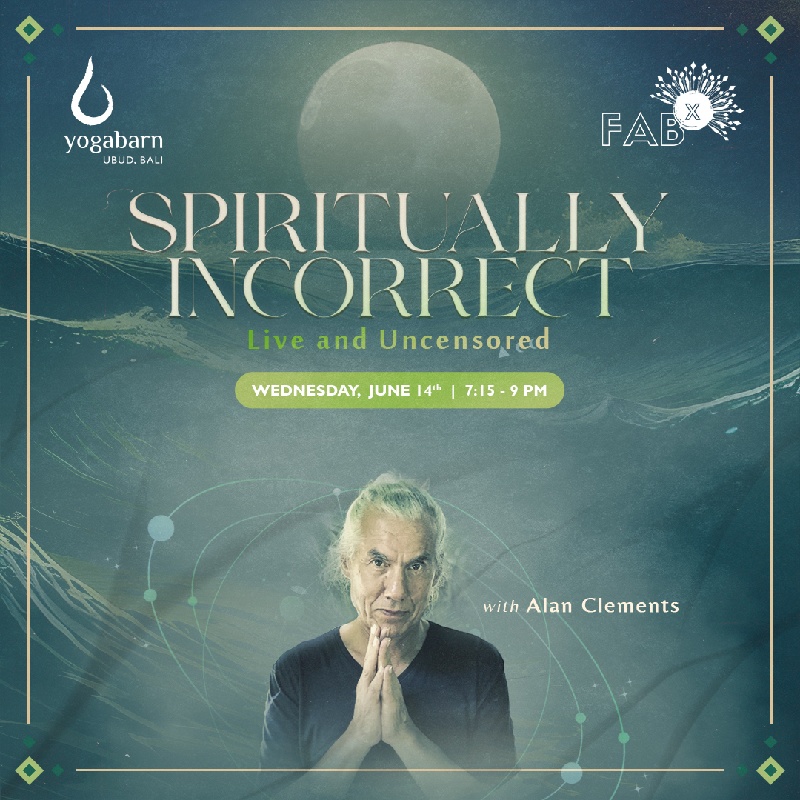 Venue Details
The Yoga Barn
The Yoga Barn
Ubud, Bali, 80571