04:00pm, Sat 24th Oct 2020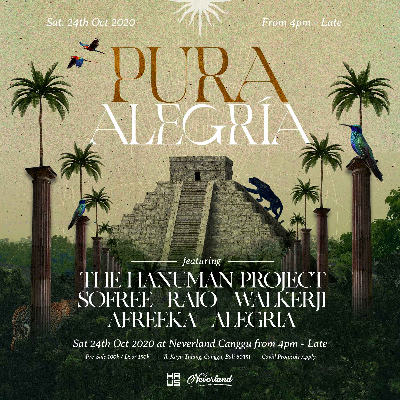 Venue Details
NEVERLAND Canggu
Jl. Kayu Tulang
Canggu, Bali, 80351
04:00pm, Sat 24th Oct 2020
Invoking our jaguar spirit bodies and hummingbird hearts for an evening of dance, song, devotion and a communal expression of joy, love and gratitude for our lives here on Mama Bali. Co-creating the ultimate conspiracy: to generate the world we choose.

So we're calling in the wizards, high priestesses, ninjas, pixies, faeries, surfers, coaches, coach's coaches, entrepreneurs, lightworkers, love makers, dance floor activators, festival creators, ceremonialistas, monks, nuns, wanderers, seekers, finders, scientists, alchemists, creators of the new economy, riders of the dawn, sailors on the infinite seas, gardeners of the earth's bounty, singers of song, makers, creators, old souls, young hearts, open sky flyers, change-makers, and culture creators.

Our temple is the dance floor, anchored with flower altars and purified with copal smoke. The fabric of our desa is the field of authentic expression as we navigate the emergence of the ever-changing Now.

This is our Now to create with dancing bodies and singing hearts.

Pre-Sales: 100k
At the Door: 150k

https://megatix.com.au/events/alegria

Hanuman Project

The Hanuman Project is a grass roots and cutting edge devotional music ensemble specialising in sacred mantra chant. They weave together a vibrant blend of Mantra, Bhajan and South American medicine music. This group is dissolving boundaries and creating accessibility for devotional culture in the Yoga, Bhakti and Conscious Dance communities, worldwide.


Known for their highly accessible and deeply powerful Kirtan and Medicine Music offerings, The Hanuman Project will sweep you up into a whirlwind of chant ecstasy and then plunge you in a lake of devotional nectar.

Raio


Raio's music dances in the colorful confluence where jungle meets ocean and jaguars chase hummingbirds who always getaway. He infuses his music with rhythms of a rediscovered tribe, vibes of a positive nature, and lyricism rooted in the heart. Expect deep beats, live vocals and instruments, and a few shouts of joy along the way.

Raio is a musician, producer, and DJ who's been uplifting the tribe in Bali for the last 14 years. An eco-community steward, co-founder of the BaliSpirit Festival, and operator of a mystic jungle studio, Raio has played an active role in the evolution of the conscious scene on the island.


Sophie Sôfrēē

Sophie Sôfrēē is your super soul sister and is known for her profoundly uplifting journeys featuring ethnic melodies, tribal rhythms, lush downtempo grooves and a refreshing feminine vibe. She brings a unique worldwide tropical sound to uplift the tribe, weaving in rhythms old and new from all over Africa, Latin America, Brazil and Asia... and is devoted to bringing village culture back to dance floors worldwide.


Walkerji

Walkerji grew up on an ashram and has blazed a trail of dance floor ecstatic experience in scenes and communities stretching back to early days working with the Dust Brothers in L.A., through late nineties downtown NYC, the wilds and mesas of cosmic coast Santa Fe, creating grammy winning recordings with Native American artists, the clubland trenches of Berlin, and on to co-founding the Air Festival in Bali and creating the Awan stage within it.

In recent years all these paths have merged and come to a culmination through work with plants, ancient wisdom and inner technology embodied in his studio productions, live & dj sets, ceremonial music and the creation of Uma Sai, a vehicle for awakening through connective, transcendent and uplifting experiences to empower and align us in a relationship of stewardship of the earth, enlightened economics and awakened living.

Creating the world we choose one breath, one heart, one night and one festival at a time.



Afreeka

Eka Afreeka is an Australian born music producer and DJ recently transplanted from LA to Bali. Raised amongst an eclectic family of artists, Eka is a self-confessed music addict on a mission to celebrate Africa and the sonic gifts of her people.


At age 5 Eka's family moved to The Gambia west Africa for full immersion study in the music, dance and culture. It was the beginning of a love that still burns today. Embracing his heritage, Eka delved deep into the musical pedigree of The Gambia, Guinea, Mali and Zimbabwe.

With the vision of fusing the rhythms of Africa with the provocative sounds emerging from the global dance music scene, Eka relocated to New York, studying at the big apples premier electronic music production school 'DubSpot'.

This was the birth of the sonic tapestry that is 'Afreeka'. A joining of his two lineages. Traditional and modern, live and electronic, Europe and Africa.


In 2011 Eka had the privilege of joining the international sensation Deya Dova, touring with them as percussionist and Ableton wizard, playing much of the international festival circuit from 'Splendor In The Grass' to 'Burning Man'.


The Afreeka sound can be loosely described as "Afrobass", blending African Diaspora sounds with progressive electronic music. His live sets are a diverse odyssey through the African continent and all the places she has seeded her rhythms. Global electronica, AfroHouse, hip-hop, Tropical Bass, Dancehall, with a tasty dusting of live percussion. Afreeka is a high-energy throw-down guaranteed to make you move.

Alégria

Crafting immersive sonic journeys that take us from gritty depths to divine heights, Alégria offers her music as a celebration of the unbelievable magic of life itself!

Born in Italy, Alégria is a world traveller who discovered the transformative power of ecstatic dance in 2015, and has been enthralled in service to the beat ever since.

Join Alégria on a wild and prayerful journey, and let's dance each other home to the heart.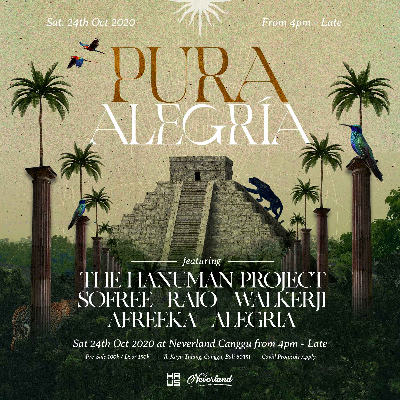 Venue Details
NEVERLAND Canggu
Jl. Kayu Tulang
Canggu, Bali, 80351