Deep Secret – Trust & Flow
17+
06:30pm, Fri 7th Oct 2022 - 08:00pm, Fri 7th Oct
This event has already taken place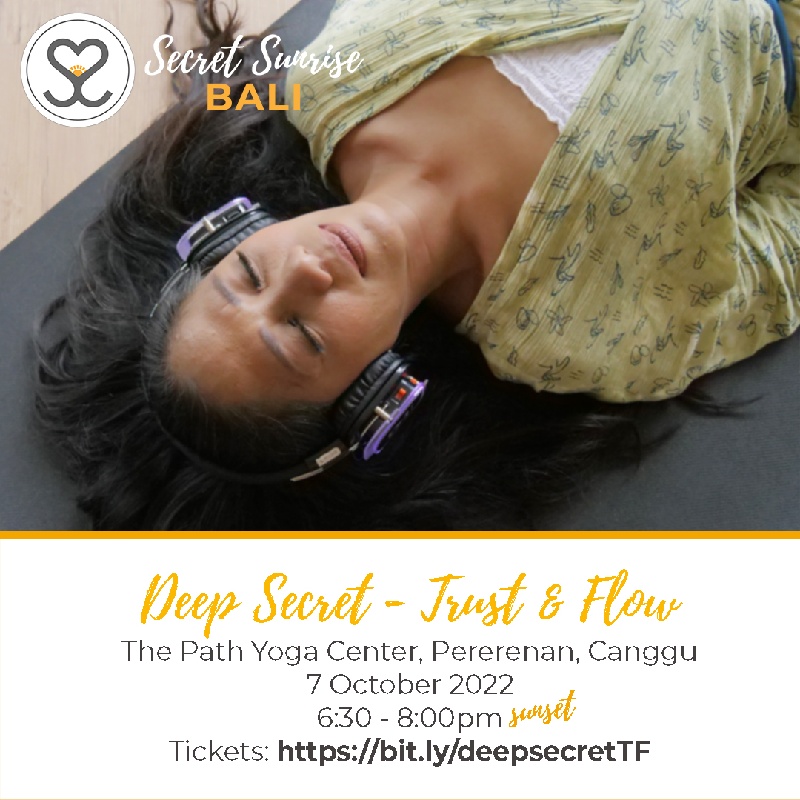 Venue Details
The Path Yoga Center
Jl. Munduk Tengah No.3
Mengwi, Badung, 80351
Deep Secret – Trust & Flow
17+
06:30pm, Fri 7th Oct 2022 - 08:00pm, Fri 7th Oct 2022
Deep Secret is a 90-minute immersive journey where you will have the chance to trust in and allow your body to guide you the way it needs to move. This special movement meditation will take place in the full moon window, known this month as the Hunter's Moon... 
Deep Secret is one of the offerings of Secret Sunrise Bali, a movement that celebrates life through music, movement, and connection. For the duration of this special Deep Secret session, you will wear wireless headphones and will be guided to experience a deep connection with yourself and others, to feel true joy and reconnect with your authentic self through meditation and movement. 
Your facilitator, Angie, will guide you through an empowering journey that encompasses meditation, breathing exercises, Shamanic journey, and the pivotal ingredient: movement.
This Deep Secret session will take place in the safe cocoon-like space of The Path Yoga Centre in Pererenan, a shala that aims to act as a catalyst for exploding into the true sense of who you are.
Come ready to trust in yourself and let it all go... 
WHEN: 7 October 2022 | 6:30 - 8:00pm 
WHERE: The Path Yoga Centre, Moksha Shala
THEME: Trust & Flow
=====
Ts & Cs
Disclaimer: Secret Sunrise Bali, its facilitators, employees, venues, associated partners and service providers will not be held liable for any loss, theft, or damage to personal property or to self.
By purchasing your ticket to one of our sessions, you acknowledge and understand the terms of attending. Tickets are non-refundable.
For any questions or issues with purchasing, please contact: bali@secretsunrise.com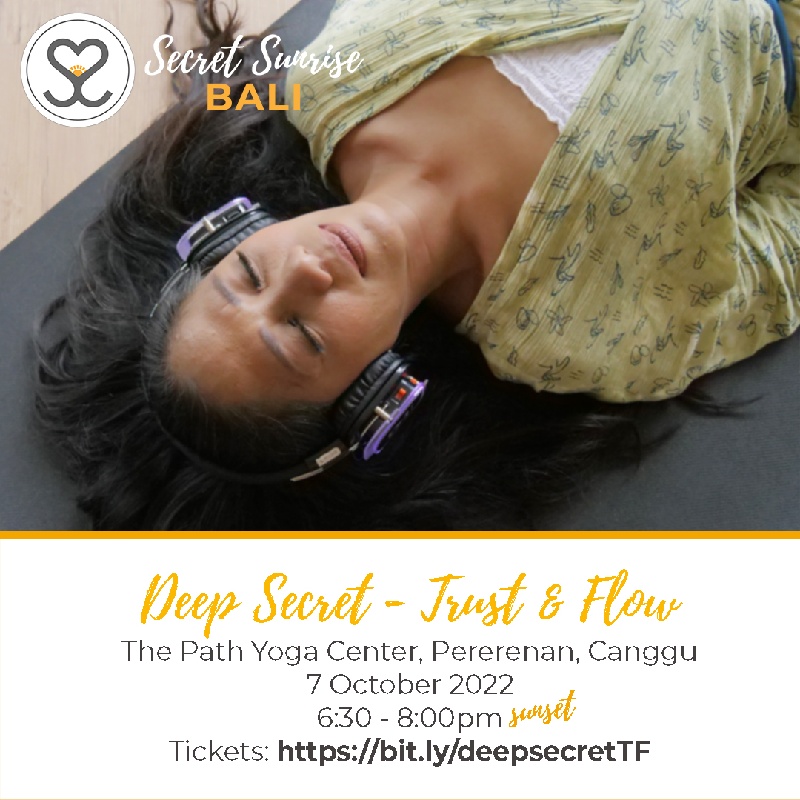 Venue Details
The Path Yoga Center
Jl. Munduk Tengah No.3
Mengwi, Badung, 80351