💜 Echo Evolution 8 🦋 Metamorphosis
03:00pm, Sat 16th Sep 2023
This event has already taken place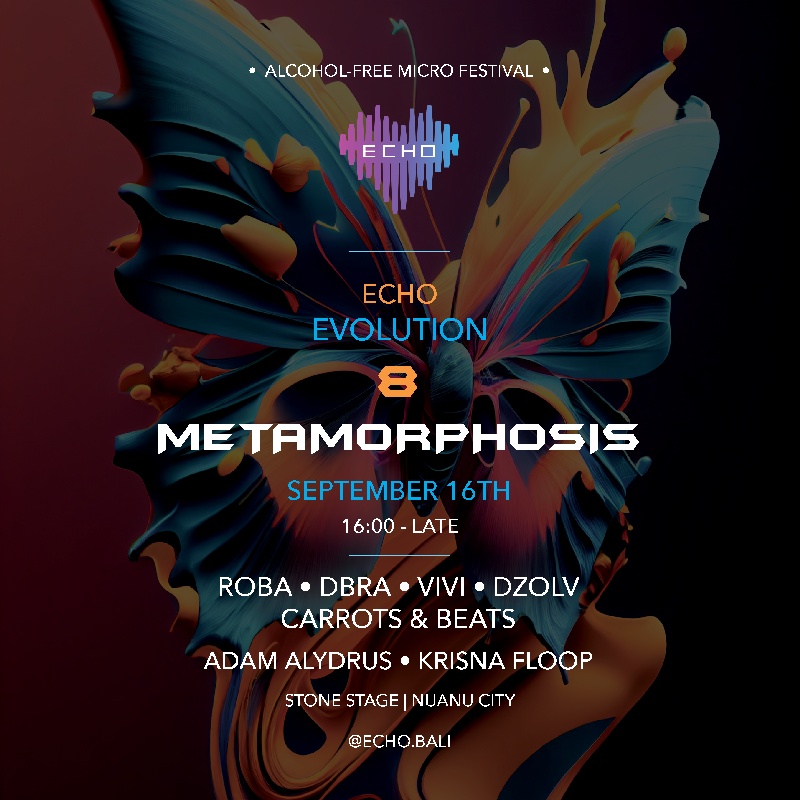 Venue Details
Nuanu, Stone Stage
Nuanu Gate, Beraban, Kediri, Tabanan Regency, Bali 82121
Beraban, Bali, 82121
💜 Echo Evolution 8 🦋 Metamorphosis
03:00pm, Sat 16th Sep 2023
Alcohol-free parties? 🤔
If you want to actually dance and not cram up in front of the DJ while people spill their drinks on you, then you're ready to evolve the way you party 🤟
Join us for our next edition of alcohol-free Echo events on Saturday, September 16th - Evolution 8 🦋 Metamorphosis
Expect a high-vibe, micro-festival experience and a rockin' dance floor with about 400 people deep into the evening ✨
Check out the video of our last event here on Instagram
--
There's a lot of information here... starting with the schedule and ending with special notes on how to maximize your experience 🤓
—
🚪 Doors Open
15:00 This time unfortunately no spa access as Harmony is going under renovations, it's going to be soooo cool when done!  
🎧 TBD
15:30 - 17:00
Warm Up DJ

🤸🏼‍♀️ Acro Yoga Jam hosted by Double Up Acro
16:30 - 18:30
Come and experience the fun and unity of acro-yoga. Share skills, reconnect with your playful side and make new friends in a unique way, while also getting a workout!
🌀 Flow Arts Workshop
17:00 - 18:00
Learn the art of spinning poi with our on-site flow master
🎹 ADAM ALYDRUS
17:00 - 18:30
https://www.instagram.com/adam.alydrus/
🍫 Cacao, Gratitude & Breathwork
18:30 - 19:00
We'll set the intention for the evening with this ancient traditional brew of raw cacao, breath & love.
🔥 Fire performance by Sacred Flames
19:00 - 19:15
https://www.instagram.com/sacredflamesfiredance/
In support of the local flow community, check out some of our amazing performers show off their flame flow skills, will be a few through the night. 
🎧 DZOLV
19:00 - 20:00
https://soundcloud.com/djdzolv
🎧 CARROTS & BEATS
20:00 - 21:00
https://www.instagram.com/bearmancook/
🎧 DBRA
21:00 - 22:00
https://www.instagram.com/dbra.music/
🎧 ROBA GROW
22:00 - 23:00
https://www.instagram.com/robagrow/

🎧 VIVI
23:00 - 00:00
https://www.instagram.com/pm.vivi/
🎸 KRISNA FLOOP
00:00 - 01:00
https://www.instagram.com/krisna.floop/
--
ALL EVENT ELEMENTS:
🍷 Non-alcohol elixir bar
🎧 6 DJ Performances + 2 Live Acts
🍫 Cacao, Gratitude & Breathwork Opening
🔥 Fire performance by Sacred Flames + Open fire jam, bring your props
🥶 Harmony Spa Experience
🤸‍♂️ Acro-yoga jam w/ Double up Acro
🌀 Flow arts workshop
🍵 Tea Ceremony
🎨 Live Art
🖌️ Body painting
👘 Vendors
🃏 Tarot Reading
🔊 Closing live musician
--
IMPORTANT INFORMATION & HOW TO GET THE MOST OUT OF THE EVENT
⏰  Please come early, doors open at 15:00, the parking is at the Naunu Gate, but you'll need to go through check-in and then shuttle to the Stone Stage.
📍 Event location:  Nuanu Gate - https://goo.gl/maps/F6j5sbN7DScJGLdx5
🚶🏼‍♀️You can walk from the parking lot, prob less than 10 mins or less, but make sure to come early (18:00) if you want to join us for cacao as we are starting at 6:30 sharp.
🏨 Accommodations: for now the only partner accommodations are right next to the Nuanu parking lot, you can check out their IG profile and book here.  It's a lovely space with 6 individual rooms for 1.4M each.
🍹 Event is non-alcohol and family-friendly (kids under 16 free).  We'll have some amazing alcohol-free elixirs to enjoy, along with a delicious menu catered by Alchemy and desserts by Sweet Memories (vegan & gf options).
📶 There is phone service at the Stone Stage, but also Wifi.
Network name = Nuanu_guest
Password = Thankyou!
💸 There will be card readers for payment at the kitchen and elixir bar, cash is great too (no cash machine on site).
🚕  Rides, if you don't have a driver or own transport, I'd suggest asking your Gojek driver to come back at a specific time.  Or I believe you can also schedule rides on the app.
🚐 Ride sharing & more - I created a special telegram group where people can share rides, accommodations, sell tickets etc here on telegram - https://t.me/+WINZwwYKzhgxNWRh
🔥 If you spin fire, bring your props.  We have free fuel and a zone for you to light up.
--
If you read this far, your thoroughness is appreciated, here's a code for 10% off - READIT
Hope to see many of you there!  The more support I get here the more epic I can make each future event 🚀✨
--
FESTIVAL MAP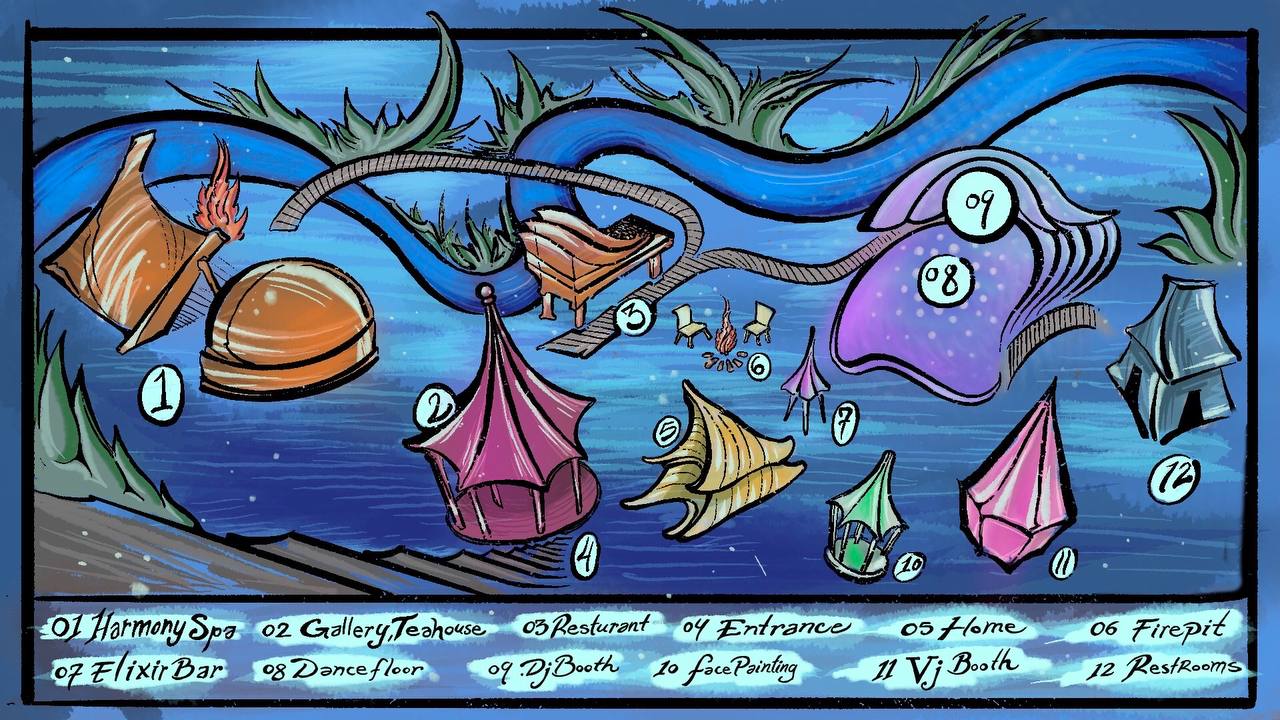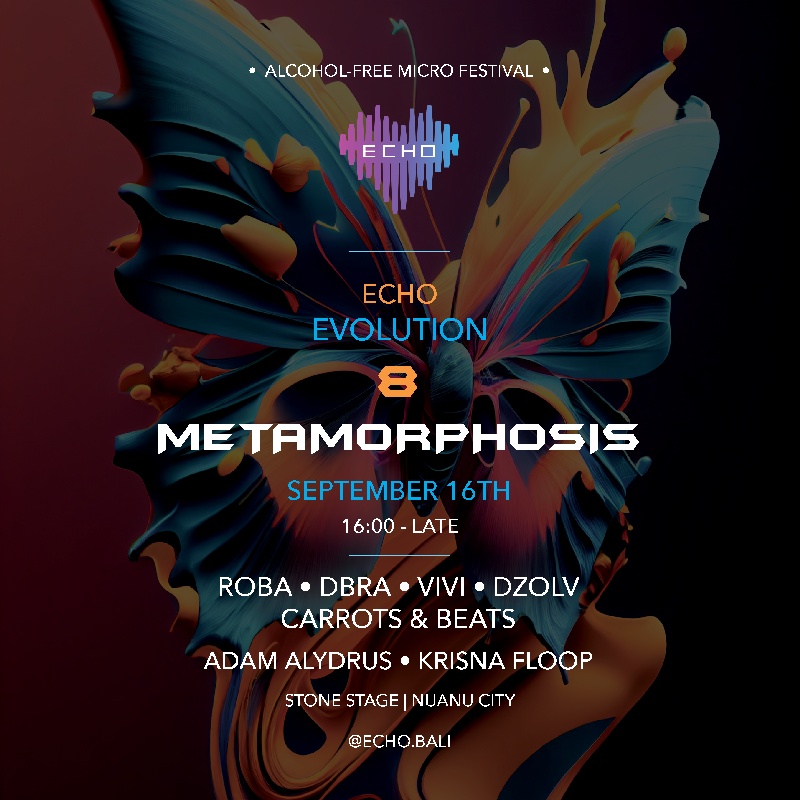 Venue Details
Nuanu, Stone Stage
Nuanu Gate, Beraban, Kediri, Tabanan Regency, Bali 82121
Beraban, Bali, 82121