04:00pm, Sat 4th Mar 2023
This event has already taken place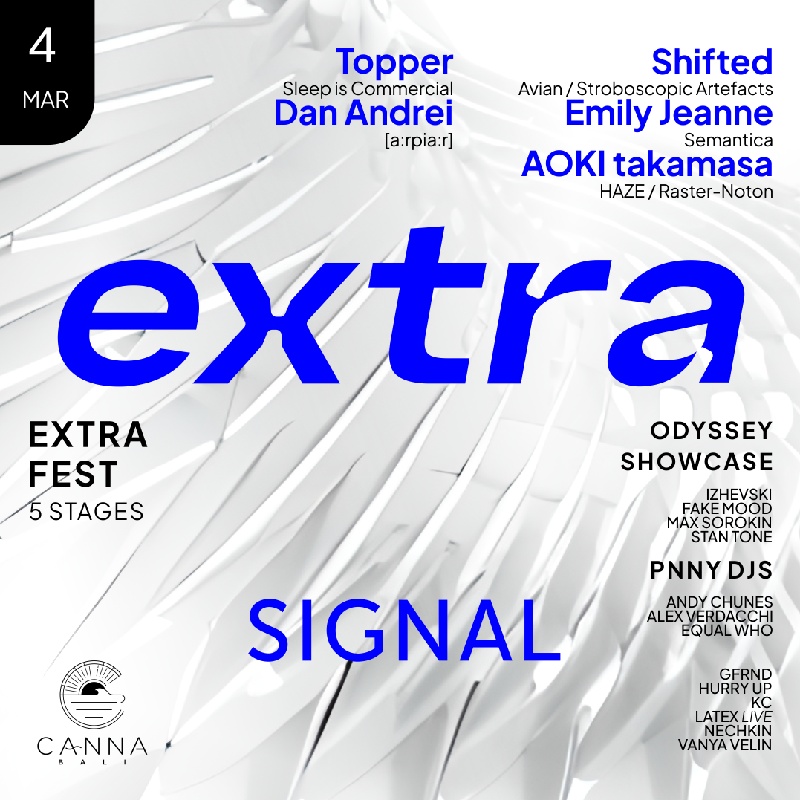 Venue Details
Canna Bali
Canna Bali
Nusa Dua, Bali, 80363
04:00pm, Sat 4th Mar 2023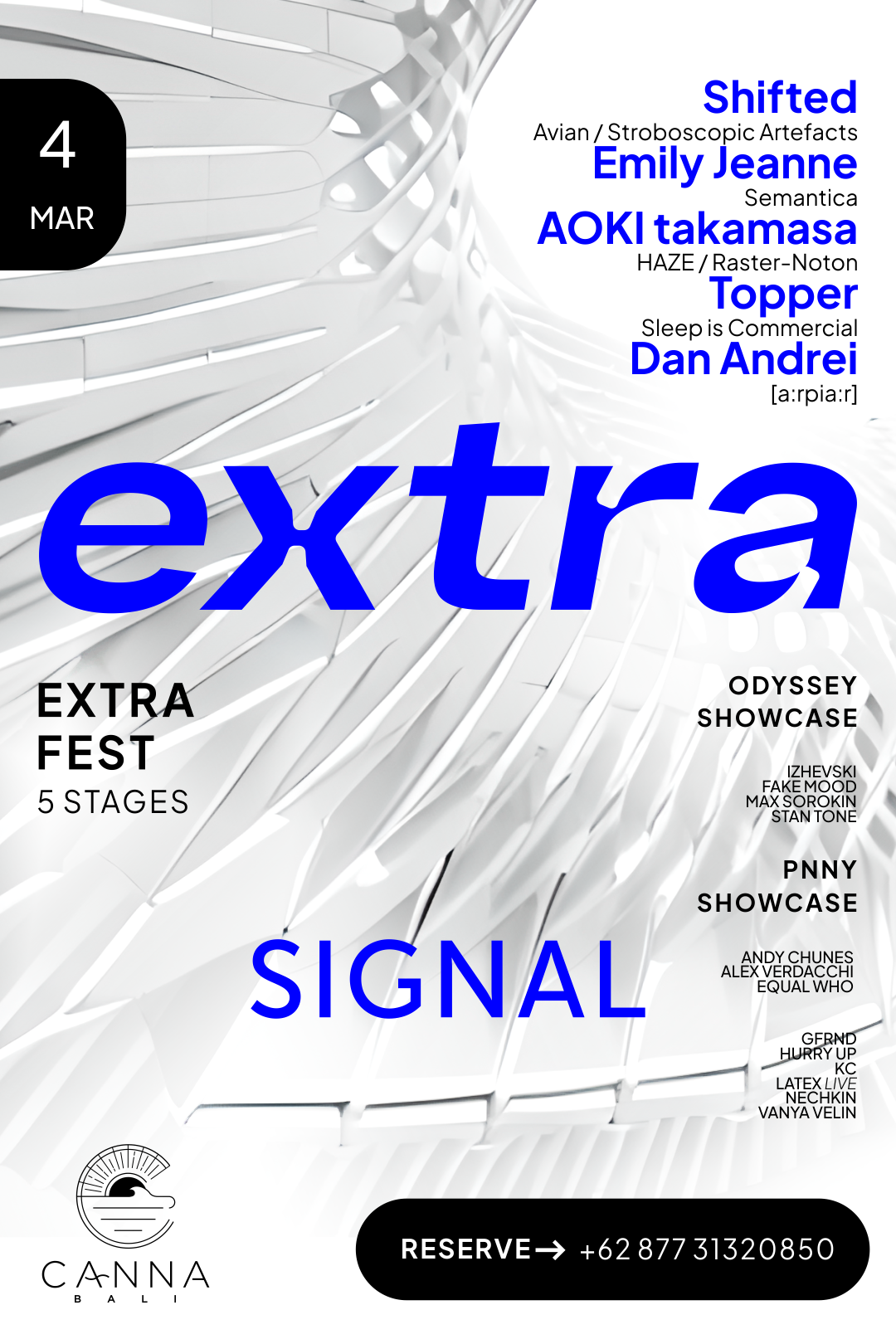 EXTRA FEST
Sat, 4 March • 5 stages
Two festival peers, Signal and Odyssey, have teamed up to create an extended multistage event at Canna Bali, featuring an exciting lineup. The bill includes UK techno act Shifted, the cutting-edge selector from Brussels, Emily Jeanne, and Japan's electronic veteran AOKI takamasa.

Leading the pack of headliners are Berlin-based heavyweight, 'a contemporary voodoo child' Topper, and Dan Andrei, a key player in the Romanian underground scene with a range of releases on [a:rpia:r]. Get ready to be blown away by these stellar performers at a fantastic event!

One of the most eagerly anticipated highlights of the event is undoubtedly the Odyssey showcase, which features an array of the finest talents that the festival has to offer.
An exciting new addition to the already impressive lineup, PNNY has been confirmed to perform at the event.
Canna Bali, an opulent and intricately designed venue, is gearing up to host a spectacular event featuring five EXTRA FEST stages. The festivities will commence on Saturday and continue into the early hours of Sunday, spanning a 14-hour duration, from 4 PM to 6 AM.

☆ Reservations +62 877 31320850

💳 Оплата картой 


🚍 Free shuttle bus will be running to the event location and back according to the following schedule. Look for EXTRA sticker displayed on the bus. Shuttle bus stop location: Marceti Temple

Masceti Temple (Seminyak, jl. Petitenget) — Canna Bali: 15:30, 17:00, 18:30, 20:00, 21:30, 23:00, 0:30, 2:00, 3:30

Canna Bali — Masceti Temple: 17:00, 18:30, 20:00, 21:30, 23:00, 0:30, 2:00, 3:30, 5:00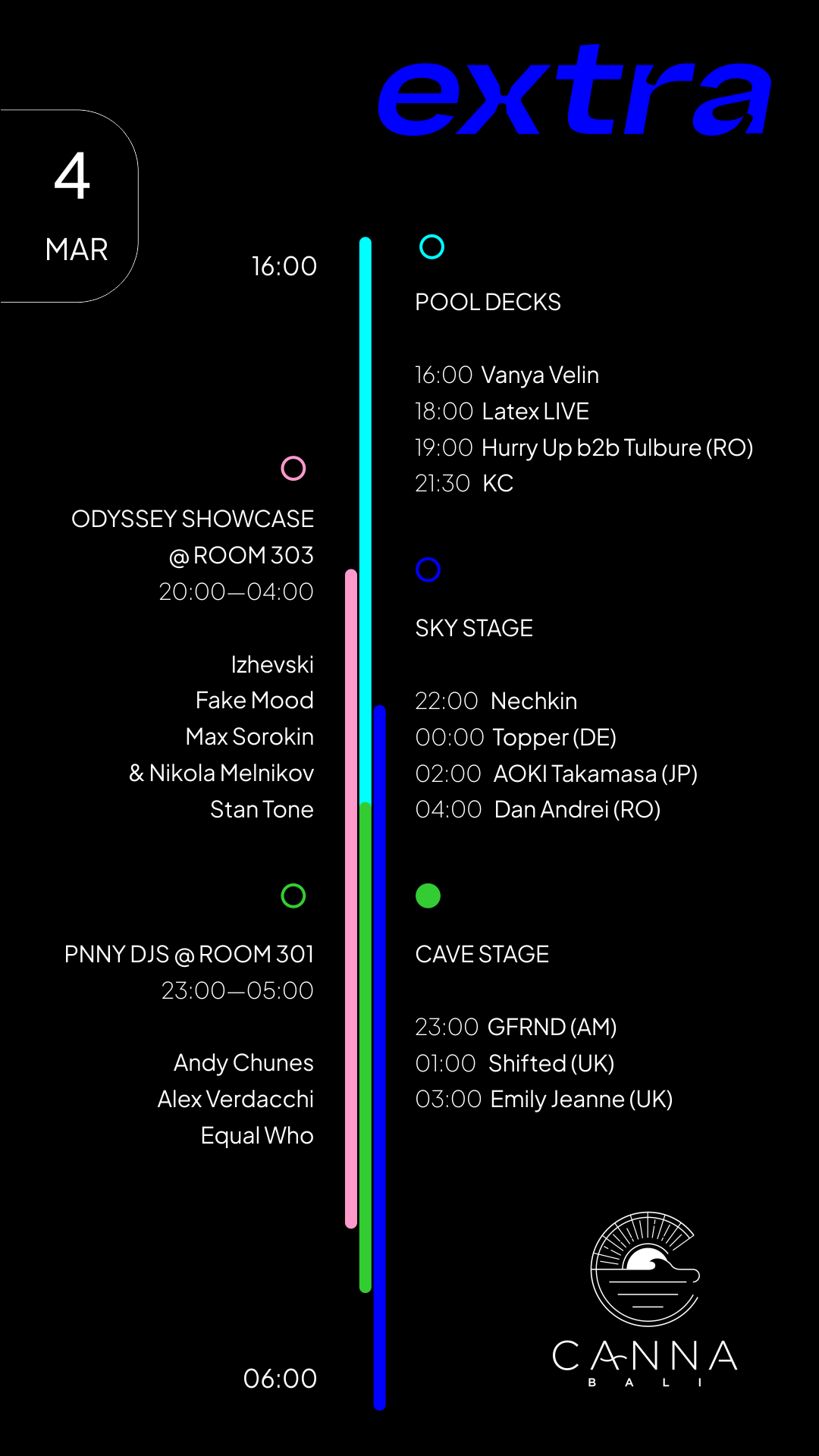 𝗦𝗶𝗴𝗻𝗮𝗹 𝗙𝗲𝘀𝘁𝗶𝘃𝗮𝗹
𝗽𝗿𝗲𝘀𝗲𝗻𝘁𝘀

Shifted
UK / Avian / Stroboscopic Artefacts

Emily Jeanne
UK / Semantica

AOKI takamasa
JP / HAZE / Raster-Noton

Topper
DE / Sleep is Commercial

Dan Andrei
RO [a:rpia:r]
ODYSSEY SHOWCASE 
Izhevski 
Fake Mood 
Max Sorokin 
Stan Tone

PNNY DJS

Andy Chunes
Alex Verdacchi
Equal Who

GFRND
Hurry Up
KC
Latex LIVE
Nechkin
Vanya Velin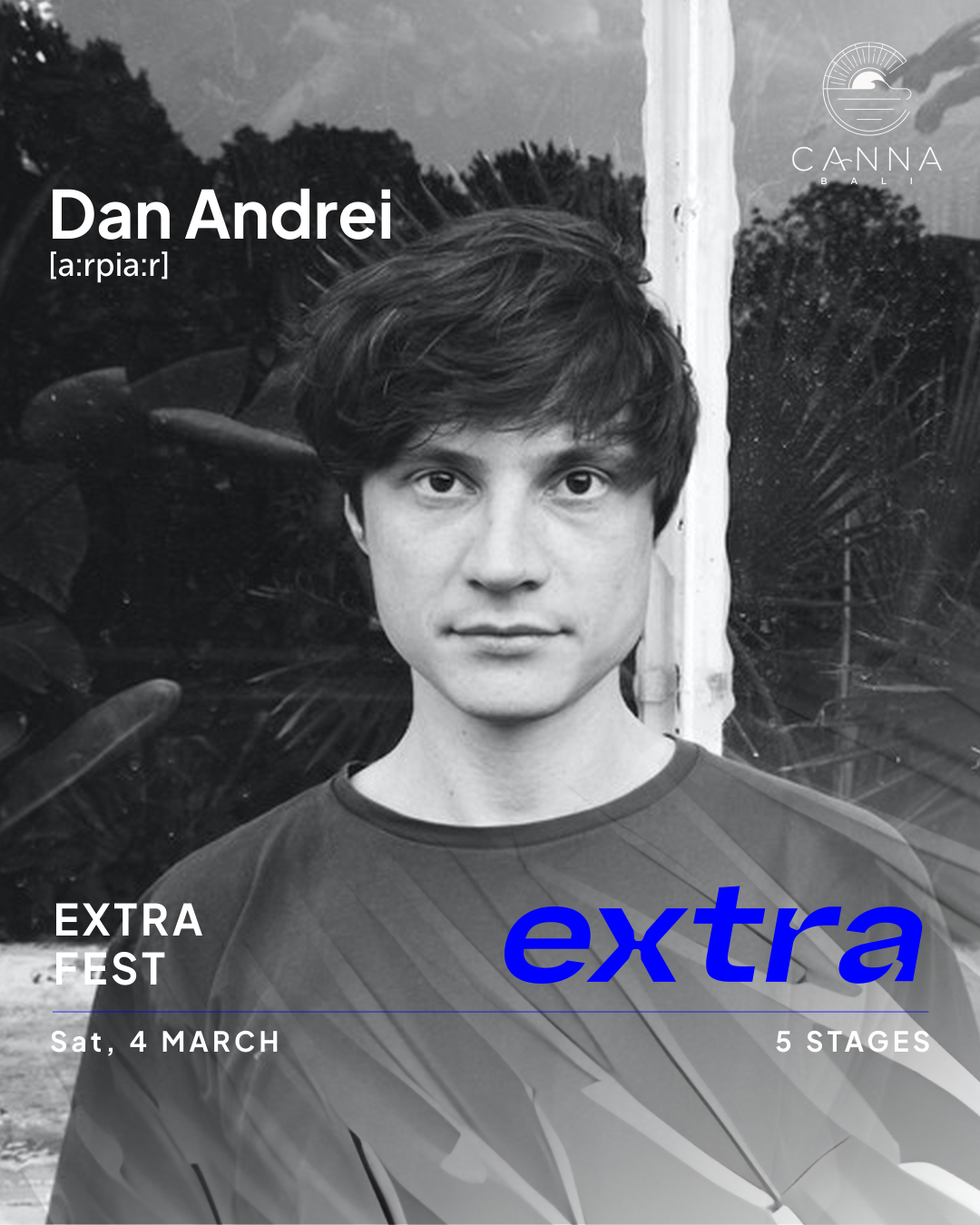 Dan Andrei. One of the key players of Romanian electronic scene is set to play on March 4 on Bali, at one of the five stages of EXTRA FEST along with Topper (Berlin) and AOKI takamasa (Osaka).
Dan Andrei is linked to the major international festivals 'made-in-Romania' such as the iconic Sunwaves, of which he's considered to be one of the strongest regulars. Regarded as a 'deep digger' in the Bucharest club community, Dan Andrei is equally welcome to the most coveted dance events either in London or New York, such as the recent 12 years of Toi Toi Musik at Fabric where he played back to back with Edward from Giegling or the two-day Resolute party he headlined with his vinyl peers Margaret Dygas, Sonja Moonear and Bruno Schmidt.
As a producer Dan Andrei has the strongest ties with [a:rpia:r], a unique Romanian phenomenon that paved the way to world-wide recognition for numerous talents. In fact, his first LP was released on the label back in 2015. In this year's news, 'House, Stage, Backstage' — Dan Andrei's latest work released by the legendary label earlier in February.
Get ready for Topper, 'a contemporary voodoo child', as he takes the Sky stage at Signal Festival's 5-stage event on March 4 at Canna Bali! A berlin-based producer and DJ, Topper is a resident at Club der Visionaere and a key figure at Sleep is Commercial label and its parties in the German capital. Topper will be headlining the main dancefloor, alongside his high-profile counterparts from London and Bucharest.
Topper has been making waves in the electronic music scene with his unique sound and style. He's been featured on major platforms such as Toi Toi, Meoko, and Trommel, and his rise to fame has been impressive. For Topper, his diverse and sophisticated taste in music can be traced back to his childhood in Turin, where he was "surrounded by substances and tunes typical of a hippie-kind of environment. Jefferson Airplane, Grateful Dead and Pink Floyd were his daily milk."
Trommel: "Topper sound got shaped in Berlin and developed together with the dynamic city he lives into — after more than 10 years the result is a complete, skilled and eclectic artist, probably one of the most esteemed out there."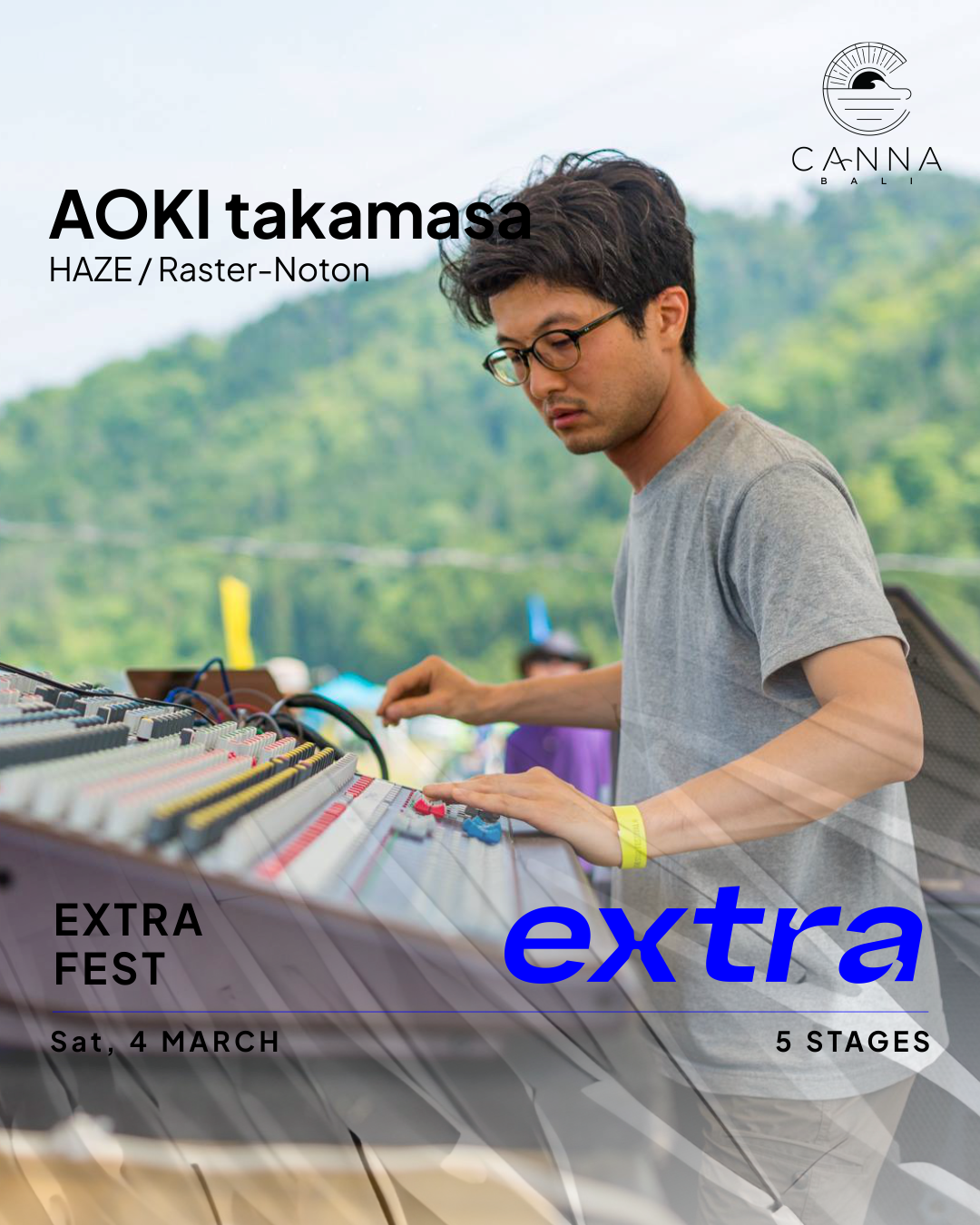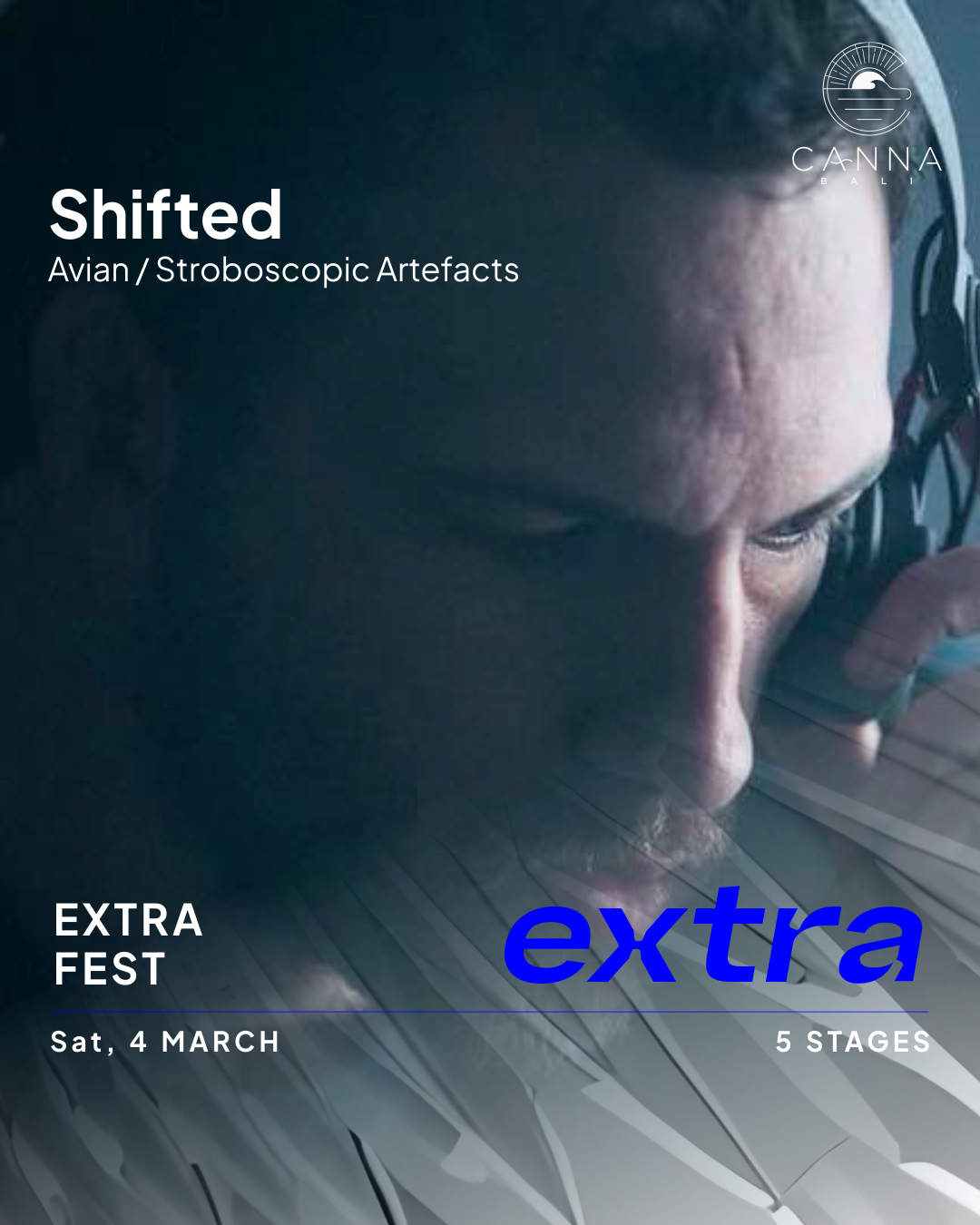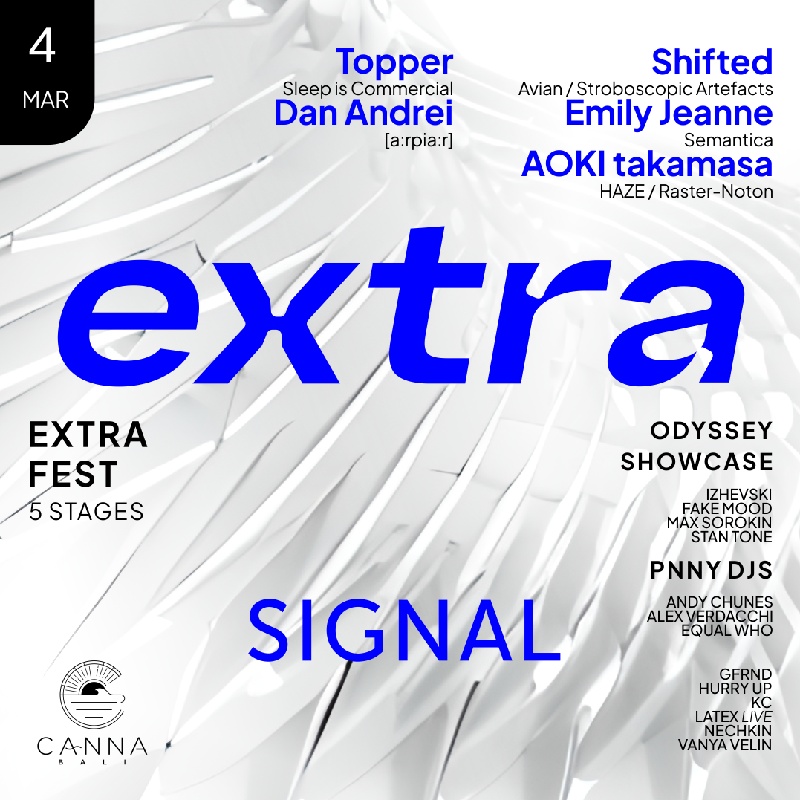 Venue Details
Canna Bali
Canna Bali
Nusa Dua, Bali, 80363