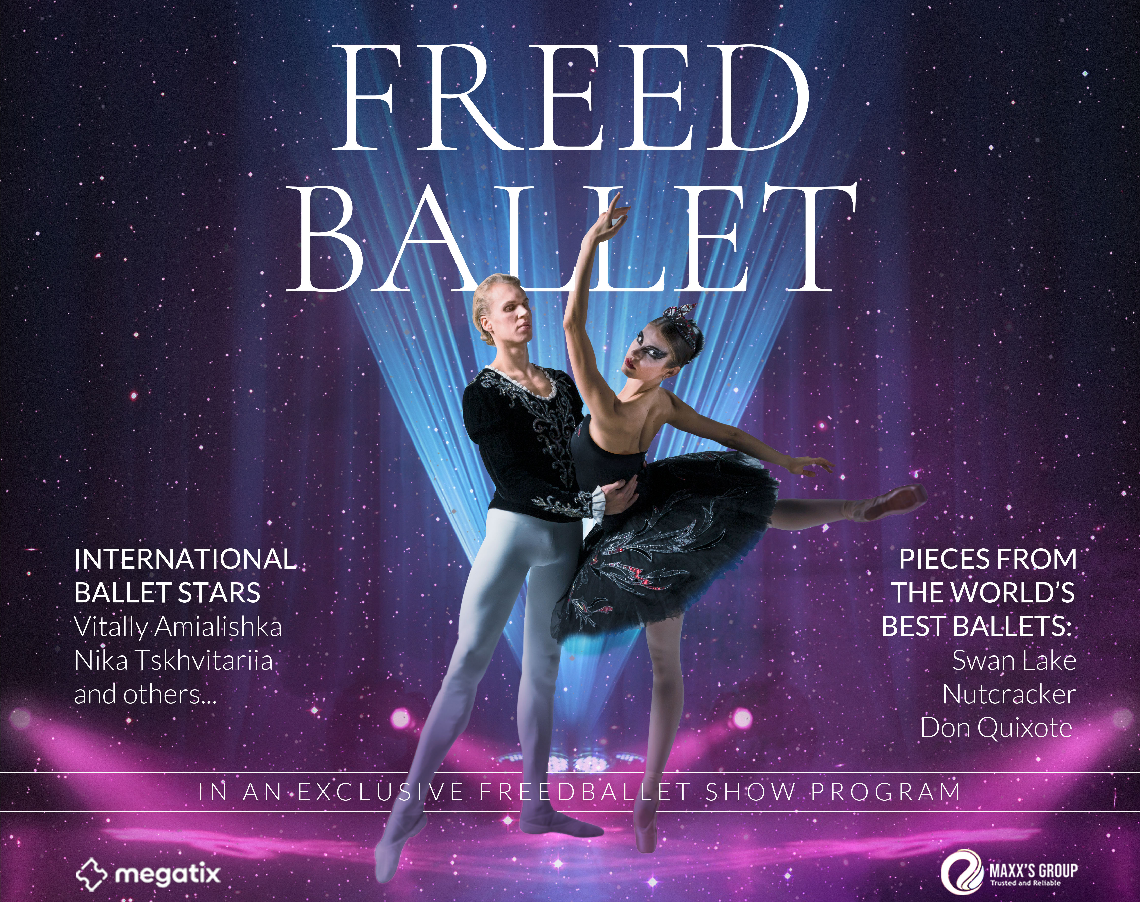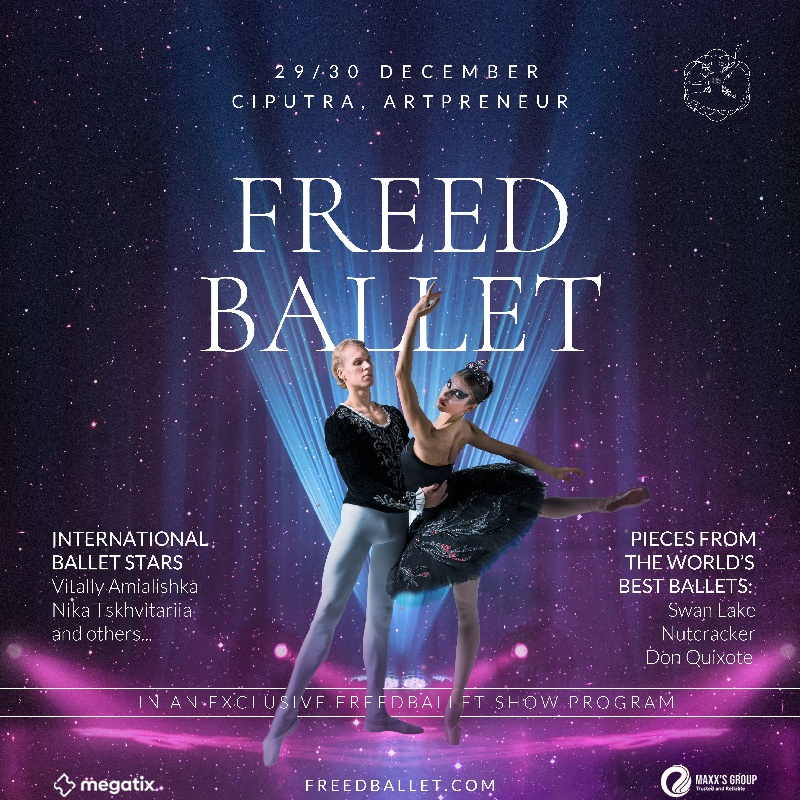 Venue Details
Ciputra - Artpreneur
Ciputra World, Retail Podium
Jakarta Selatan, Jakarta, 12940

SPECIAL 20% DISCOUNT - 12.12!
Use promo code "20OFF"
Valid from 26th November until 14th December, 23:59.
________________________________________________________
Celebration ComeBack of FreedBallet for New Year in Jakarta

International Ballet Stars on the Ciputra Artpreneur Stage with a NEW PROGRAM!
 
We've returned to Jakarta to create a New Year's fairy tale for our cherished audience, an experience that transcends boundaries and unites the world through the universal language of dance.

● Vitally Amialishka & Nika Tskhvitariia
The best alumni at the Vaganova Academy of Russian Ballet were performing the most Famous ballets at the Mariinsky Theater, principal artists of Freedballet.

Guest International Ballet stars:
Invited ballet dancers:
● Oleg Demchenko

As well as special guest Ballet stars
● Sergei Krylov 
A graduate of the A.Y. Vaganova Academy, he is a soloist at the Leonid Yakobson Theatre.
He is a diploma recipient of the international competition "Grand Prix of Siberia" (2016) and a laureate of the international competition "Young Ballet of the World."

● Ludmila Khitrova
Honored Artist of the Republic of Belarus, prima ballerina of the Belarusian State Opera and Ballet Theatre.
Winner of the Grand Prix at the International Ballet Artists Competition in Istanbul.

________________________________________________________
Onstage at the Ciputra Artpreneur, on December 29th and 30th, Freed Ballet will present the newest Show program with musical accompaniment by piano virtuosos:
● Dmitrii Nekhoroshev
Is a virtuoso pianist and a brilliant graduate of the Tchaikovsky Conservatoire.
He is a prize-winner at numerous competitions and has experience of performing on the world's finest stages.

● Aysylu Salyakhova
Extremely gifted pianist, who has won more than 15 international pianists' competitions.
She has performed on the world's most famous stages in the USA, Spain, France and Russia.

As well as special guest flying artists for a concert in Jakarta, for the First time at FreedBallet!
● Olya Lemberg
● Alexsandr Timohin


________________________________________________________
The FreedBallet program is based on the art of ballet and includes a wonderful fusion of classical music and modern elements:
Act One (~50 minutes):
In this act, you will immerse yourself in the world of ballet, enjoying excerpts from some of the most famous ballets such as "Don Quixote," "The Nutcracker," and others. Combining classical music with exclusive compositions by FreedBallet, the performance also features a spectacular light show specially designed for this program. Flying artists will add a unique touch of magic to this act, allowing the audience to feel the great art of ballet as performed by FreedBallet.
Act Two (~40 minutes):
In the second act, you can expect excerpts from "Swan Lake" set to the music of Pyotr Ilyich Tchaikovsky, as well as virtuoso performances by pianists, violinists, and talented ballet artists. Enhanced by live decorations, the flying artists will continue to amaze you, creating an incredible sense of ballet artistry.
 
In this way, FreedBallet offers a unique rendition of classical music, accentuating the grandeur of ballet art in all its beauty and inspiring the audience.

________________________________________________________
The organizers of the FreedBallet Show
Date: 29th and 30th December / 2023
Venue: Ciputra Artpreneur
Start of Concert: 19:00
Young audiences over 5 years old are also invited
If you have any problems with the purchase, you can contact us via WhatsApp


You can view a 3D tour of the Theater here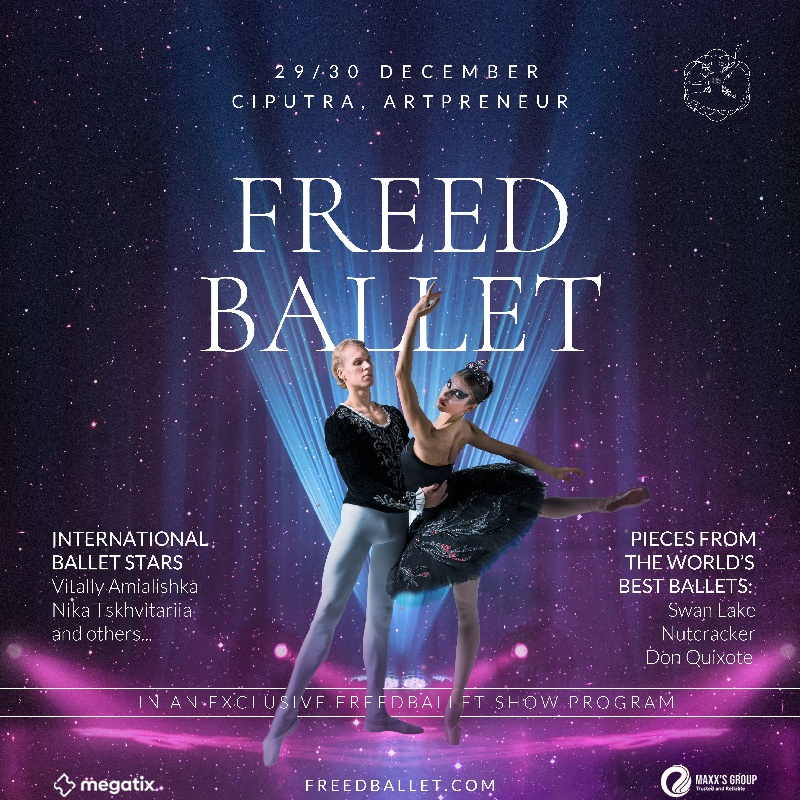 Venue Details
Ciputra - Artpreneur
Ciputra World, Retail Podium
Jakarta Selatan, Jakarta, 12940