Ubud Highlights Full Day Tour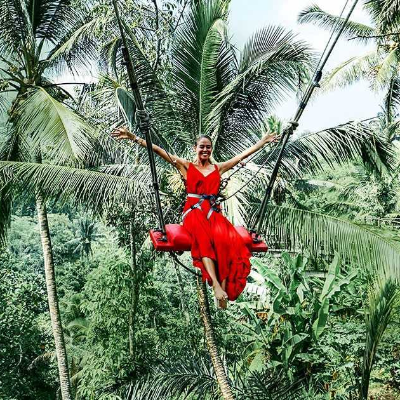 Venue Details
Bisma Cottages Ubud
Jl. Bisma no 35
Ubud, Bali, 80361
Ubud Highlights Full Day Tour
This tour itinerary is a combination of our favourite places that we consider to be ' must see's " around Ubud Area.
We visit Tegallalang first to avoid any crowds. This is one of the most magical terraced landscapes in the Ubud region due to the 360 degrees view of greenery.  You can climb up and down the terraces or sit at a café or viewing places and soak up the view.
After we can also stop at Tegalalang Swing and Flying Fox. Try the different swings and nests or the amazing flying fox. All promise unique views and perfect photo opportunities.
Only minutes away is a coffee plantations and agro organic farms. Our preferred place grows chocolate, traditional healing herbs and fruits that you can see during the free guided tour. After the tour you are escorted to the rustic restaurant where the magic happens. The view of rice terraces and tropical forest is breathtaking. Tea and coffee sliders are served complimentary. Luwak Coffee is available also for a small charge.  We highly recommended you accompany your coffee and tea with the banana fritters.  Lightly battered and fried these are to die for – many of our guest cannot stop at just one serve!
Tirta Empul or Holy Spring Temple has many areas to this complex –  fish ponds, many beautiful goddess statuse,  areas for prayer and reflection, pavilions for special ceremonies plus the ponds where you can see the springs coming from the ground. The holy springs fill a bathing area where the water blessing rituals takes place.   There are 13 beautiful fountains in three separate pond each having a special purpose.  When following the ritual you begin cleansing your body in the pond representing past life, followed by present life and finishing with future life.
During the Bisma Cottages Full Day Ubud Tour you can choose to  include the water blessing ritual assisted by our Manager who is from this area and very knowledgeable.
Lunch Break is at your leisure enroute to Tegenungan Water Fall or Kanto Lampo Waterfall
At Tegenungan Waterfall there are many options to experience this amazing view. You can keep to the viewing areas, walk down to the base and take a swim or walk all the way to the top. All are highly recommended.
Kanto Lampo is a smaller, less busy waterfall but just as stunning as the falls cascade down over many rocks. The walk is not long but a little steep at the end if you want to go swimming.
Now your full day tour is complete and you can be assured you have experienced some of the best sights around Ubud.
Itinerary:
9.00am   Depart Bisma Cottages
9.20am   Arrive Tegalalang Rice Terrace
9.45am   Arrive Tegalalang Swing & Flying Fox
10.30am  Arrive Bali Pulina Coffee Plantation
12.00am  Arrive Holy Spring Water Templa
1.00pm   Lunch
2.45pm   Arrive Waterfall
4.00pm   Depart for Bisma Cottages
Price:
Per Adult IDR 300,000   
Per Child (2 – 12 years) IDR 150,000
Single Surcharge IDR 150,000. Baby Seat on Request
Includes Private Car and Driver, Bottle of Water per person, Sarongs and Offerings for guest wanting to do the water blessing ritual at Holy Spring Water Temple.
Excludes: Entrance Fees, Food and Drinks, Swing, Flying Fox
Pack: Good footwear, swimmers and towel if planning to swim at the waterfall, mosquito spray, sunscreen, cash money.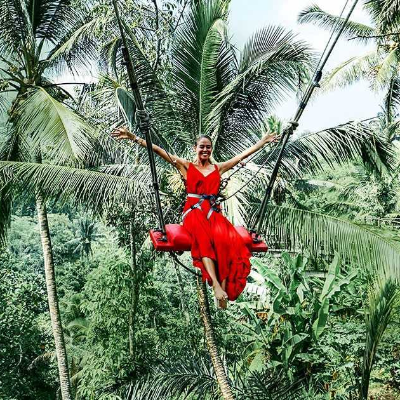 Venue Details
Bisma Cottages Ubud
Jl. Bisma no 35
Ubud, Bali, 80361