UNVEIL YOUR GODDESS ESSENCE WOMEN'S EMOTIONAL AND EROTIC FULFILLMENT
18+
09:00am, Sat 15th Jul 2023
This event has already taken place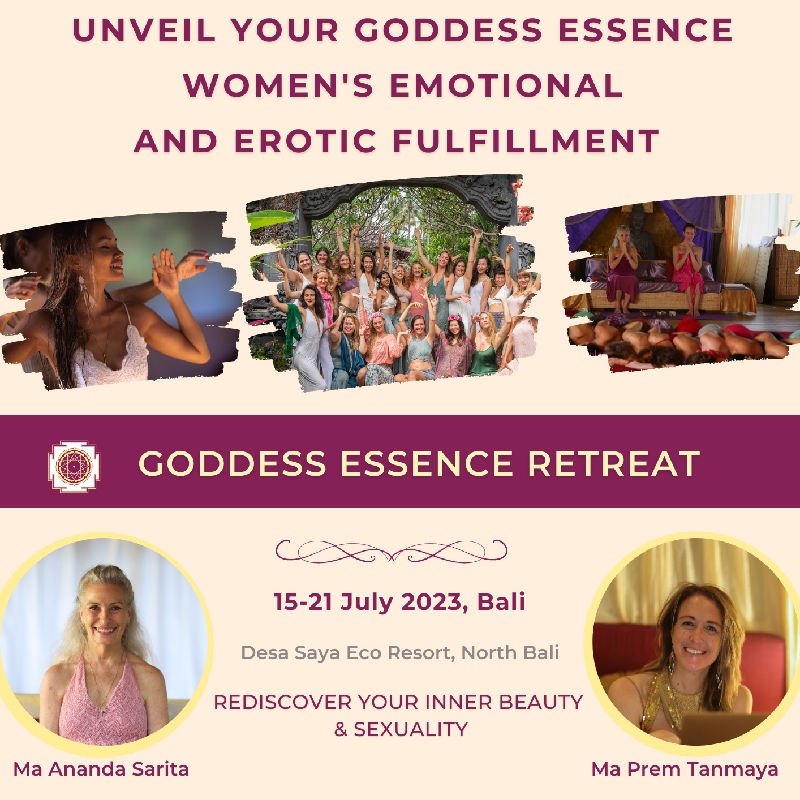 Venue Details
Desa Saya Eco Luxury Resort
Br. Tegal Sumaga, Desa Tejakula, Les, Tejakula, Les, Kec. Tejakula, Kabupaten Buleleng
Tejakula, Bali, 81173
UNVEIL YOUR GODDESS ESSENCE WOMEN'S EMOTIONAL AND EROTIC FULFILLMENT
18+
09:00am, Sat 15th Jul 2023
What is your innermost, secret desire? 
Perhaps you have not even dared to whisper it to yourself...
Is it to come to know the fullness of orgasm, the depths of intimacy and love, the joys of bringing life into the world?
Or perhaps it is to be recognized as a divine being of exceptional beauty and talent?
Or maybe it is to be of service for a better world?
Whatever your secret desire is, know that all women are connected and your desire is our desire. When we pool our energies, we become all-powerful to manifest our life in service of the highest good for all beings.
​​What is possible When you fully embody your beauty & Sensuality?
How much love are you able to experience for yourself and others?
What version of yourself might you become when given the permission, the freedom, and the techniques you need to expand and evolve?
In this week-long immersive retreat, world-renowned Tantra Essence Teachers Ma Ananda Sarita & Tanmaya will guide you on a profound journey to liberate your inner power of Love & Sensuality. 
If you have ever wondered, What is the *Female Tantric Path* and you feel ready to unveil your power within.
This is for you!!!!
In this Retreat, You will be initiated into :
 Three Stages of Love
 Master keys to open the Women's power portals 
 Women's Secrets for inner ecstasy.
Discover healing, reconnection, and empowerment.
This retreat is a portal into the manifestation of your ultimate potential.
This is an opening to what's possible for your life--a YES to more spaciousness, joy and peace.
Will you say "yes"?
WE WILL EXPLORE:
Rewriting your inner beauty script, awakening your inner and outer Goddess in all her splendor.
Unwinding unhealthy conditioning in regard to our identity as women
Discovering the immense orgasmic potential hidden in our genitals, womb, breasts, voice, and innate longing for intimacy and love.
Emotional fluidity as a key to sexual fulfillment and orgasmic ecstasy for women
Learning about the female sexual response in the genitals, throughout the body and the brain;
Understanding the role emotions play in women's sexual flowering; 
Exploring woman as the portal for both birth and death, treasures held in our womb center connecting us to the wheel of life, and her potential as Goddess; 
Knowing the role physical connection and intimacy play in awakening a woman's orgasmic potential 
Understanding the positive and receptive nature of the chakra system and how Kundalini energy is activated in women
An exquisite & juicy blend of ancient Tantra techniques, sensuality, therapeutic methods, ritual, dance, massage, emotional fluidity methods, and sharing, all held in a safe container
Powerful and lasting transformation
WHO IS THIS FOR?
Any woman, single or in a relationship, who is ready to come into her full expression of Divine Feminine
Anyone who is...
Curious about exploring her beauty, sensuality, and power
Ready to heal inner stagnation arising from societal conditioning
Open to experiencing emotional fluidity leading to the liberation of inner ecstasy
Eager to be part of a group of vibrant, like-minded women who are committed to growth and integrity
WORKSHOP DETAILS:
WHEN
15-21 July 2023
- Starts Saturday, 15 July at 1:00 PM (check-in from 11:00 AM)
- Ends Friday, 21 July at 5:00 PM (check-out from 5:00 PM)
SAMPLE DAILY SCHEDULE
8:30 am - Morning Session (Active Meditation, Yoga, or Emotional Release)
10:00 am - Brunch/Beach Break
12:00pm - Group Session
2:00 pm - Snack Break
3:00 pm - Group Session
5:00 pm - Dinner by the Beach
6:30 pm - Group Session
8:30 pm - Group ends for the day
VENUE
Desa Saya Eco-Luxury Resort, Tejakula, North Bali (Contact for exact location)
INVESTMENT:
$1990 (includes tuition fee, healthy, delicious vegetarian meals + double shared accommodation in luxurious rooms at Desa Saya Eco Luxury Resort)
Early Bird 3 (until 11th April): $1690
Early Bird 2 (until 11th May): $1790
Early Bird (until 11th June): $1890

Note:
- Single Room Upgrade is available for $550 and is on a first-come, first-served basis (and is not guaranteed). Single Rooms are a few minutes walk further from the group room than the shared room.
- Most rooms are Double Shared Accommodation.
- Participants booking their offsite housing is not possible, without exception, as per our agreement with the venue.
PAYMENT OPTIONS
- Megatix Payment by credit card is possible (charged in IDR)
- If you prefer to pay by Bank Transfer or Wise, in USD / EUR / AUD
- Details :  
Name - Sadhana Sadana 
Account number -4180550289
BIC / SWIFT - BBBAIDJA
Address - Permata bank jl raya andung, br ambengan peliatan ubud, gianyar, 80571, Indonesia
REGISTRATION & INQUIRIES (CONTACT):

Please complete the Registration Form, either before or after Tantra Essence Registration Form 
Event Organizer
Dharmaraj: [email protected] / WhatsApp or Telegram: +91-9716622447
 
MEET YOUR HOSTS:
MA ANANDA SARITA
Ma Ananda Sarita is the founder of Tantra Essence. She is a world-renowned Tantra Master and mystic who has been offering courses, retreats and trainings throughout the world since 1990. Having lived in Osho's physical presence for more than 17 years and remained in His community for a total 26 years, she received direct transmissions from him on Meditation and Tantra.
Sarita is true to the spiritual essence of Tantra and guides her students on the path of self-realisation. She is also a master healer, author and producer/ director of Tantra online courses and Tantra Meditation music..
MA PREM TANMAYA 
In 2011, Tanmaya came in contact with Ma Ananda Sarita, who became her teacher and guide and Tanmaya studied with her intensively over several years, exploring her own inner sky and diving deeply into the essence of love and meditation. Deeply rooted in the teachings of Osho and infused by a deep quest for true love and authentic living Tanmaya offers a powerful transmission of Tantra, that is both sacred and contemporary. She teaches a wide array of groups in the Tantra Essence curriculum, and specializes in teaching the couples Soul Mate Series.
"My vision is that we are divinity embodied. And this vision I hold through all my offerings and approaches. I cherish to be intimate in all layers of my being and to show myself with all that I am. I also cherish those I come in contact with, seeing you in all that you are."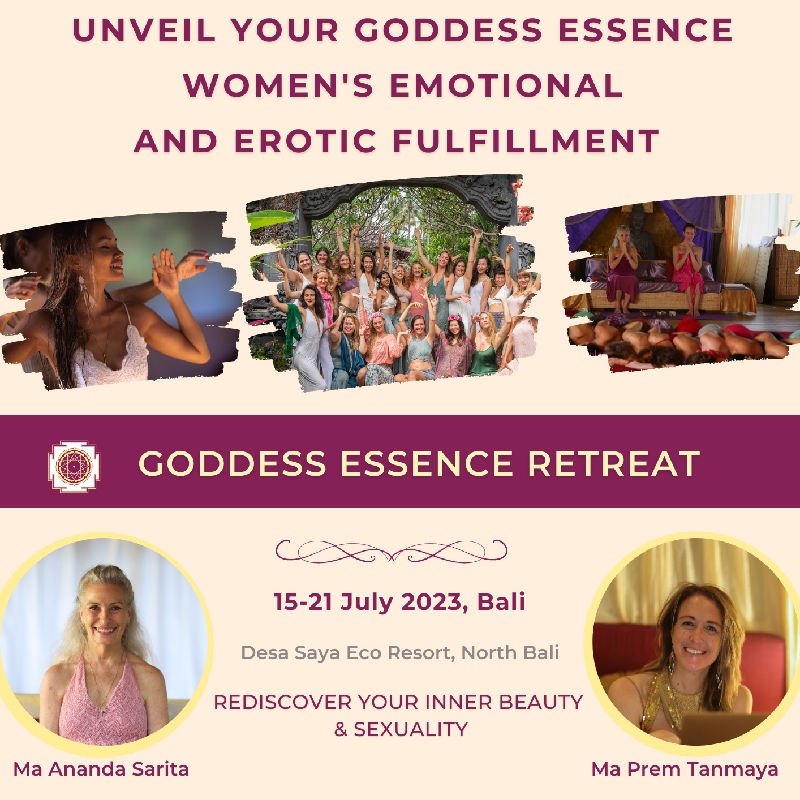 Venue Details
Desa Saya Eco Luxury Resort
Br. Tegal Sumaga, Desa Tejakula, Les, Tejakula, Les, Kec. Tejakula, Kabupaten Buleleng
Tejakula, Bali, 81173