Grom Patrol 2021 - Ultimate Training Camp
11:00am, Sun 4th Jul 2021
This event has already taken place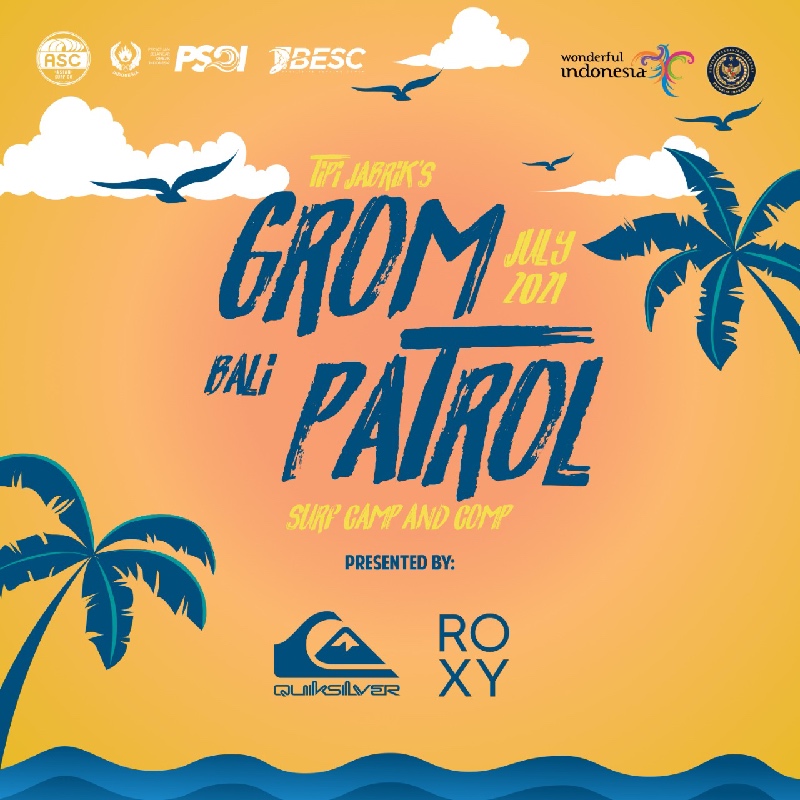 Venue Details
Kosta Hostel Seminyak
Jalan Dewi Saraswati III, No.77 Kunti 2
Seminyak, Badung, Kuta, Bali, 80361
Grom Patrol 2021 - Ultimate Training Camp
11:00am, Sun 4th Jul 2021
New Program Available!!
8 days, 5 days, and 3 days Surf Camp
Available also our Day Camp only

 
The Grom Patrol is an unprecedented event in Bali, gathering Bali's surfing groms together for a week of fun and surfing. This is a great opportunity for the kids to make new surfing friends, improve their surfing skills during the week, and test them in competition. 


We are stoked to announce the third annual Grom Patrol camp and competition! The biggest Grom surfing event in Bali for the last 3 years. 
The camp will take place at Kosta House Seminyak and best wave condition beaches from the 4th to the 11th of July 2021. The competition will be over the weekend (10th-11th July) Location will be determined soon depending on swell conditions.
Training Camp Information:
The Groms will stay at Kosta Hostel Seminyak and their surfing sessions will take place in the best condition beaches with our partner BESC (Bali Elite Surf Coaching). The camp starts on Sunday the 4th, with the Groms checking in to Kosta Hostel Seminyak at 11 am, where they will receive their welcome packs (filled with products from the event sponsors).  The camp ends on Sunday the 11th. The package includes the competition entry fee. There is a Day Camp Only option also.
Information about the stay:
Ages from 8 years old to 16 years old. The maximum capacity is 24 Groms.

Shared room with other kids

Breakfast/Lunch/Dinner included (no breakfast on Sunday 4th and no dinner on Sunday 11th)

Each Grom needs to bring their own towel and toiletries
Information about our camp Partners:
Bali Elite Surfing Coach @bali_elite_surfing_coach/
Bali International Surf Academy @balisurfacademy/
Finns Recreational @finnsrecclub/
Waterbom @waterbombali/
Kostahouse @kostahouse/
Asian Surf Cooperative @asiansurfco/
Theory and practice surf training 

Accommodation

Organiser

Recreational center

Video analysis

Physical surfing-related training

Each Grom needs to bring their own equipment (Surfboard, fins, leash)
Camp Program:
| | | | |
| --- | --- | --- | --- |
|   | Sunday 4th July: day 1 |   | Start of 8 days camp |
| 12.00 - 12.30 | Groms check in Kosta House | Kosta House | Greeting by Camp Manager |
| 12.30 - 13.30 | Camp Orientation | Kosta House | Briefing By Tipi, Make sure all itinerary and logbook is ready and we will give their pack and BESC brief by Dylan and camp manager by Andrea |
| 13.30 - 14.00 | Car Loading | Kosta House |   |
| 14.00 - 16.30 | BESC surf training | Kuta / Legian Beach | Surf filming and coaching |
| 16.30 - 17.00 | Car Loading | Kuta / Legian Beach |   |
| 18.00 - 19.30 | Dinner | Kosta House | After shower all kids dinner |
| 19.30 - 21.00 |   | Kosta House | Movie nite make sure POPCORN |
| 21.00 | Rest | Kosta House | Quiet time and sleep |
|   |   |   |   |
|   | Monday 5th July: day 2 |   |   |
| 7.00 | Wake up time | Kosta House | All kids must ready with all their stuff, boards, leash, rashie, sunscreen, bags, sandals |
| 07.00 - 08.00 | Breakfast | Kosta House | after all kids prep their surf gears, they all ready for breakfast at Kosta Seminyak |
| 08.30 - 09.00 | Car Loading | Kosta House |   |
| 09.00 - 12.00 | BESC Surf training | Kuta/ Legian Beach | Surf filming and coaching |
| 12.00 - 12.30 | Lunch | Kuta/ Legian Beach | Lunch Box at the beach, make an area where kids can have nice eating space, picnic-style at the beach |
| 12.30 - 13.00 | Car Loading | Kuta/ Legian Beach |   |
| 14.00 - 15.00 | BESC Video Analysis | Finns Recreational | BESC crew set their video analysis at Finss and all kids must get their train and help them improve for all levels |
| 15.00 - 17.00 | Splash at Fins recreation club, and breathing technique | Finns Recreational | After the analysis session straight to SPLASH for Under Water Breathing Technique |
| 18.00 - 20.00 | Dinner | Kosta House | After shower all kids dinner |
| 20.00 | Rest | Kosta House | Quiet time and sleep |
|   |   |   |   |
|   | Tuesday 6th July: day 3 |   |   |
| 7.00 | Wake up time | Kosta House | All kids must ready with all their stuff, boards, leash, rashie, sunscreen, bags, sandals, and must bring all their skate gears |
| 07.00 - 08.00 | Breakfast | Kosta House | after all kids prep their surf gears, they all ready for breakfast at Kosta Seminyak |
| 08.30 - 09.00 | Car Loading | Kosta House |   |
| 09.00 - 12.00 | BESC Surf training | Kuta/Legian Beach | Surf filming and coaching |
| 12.00 - 12.30 | Lunch | Kuta/Legian Beach | Lunch Box at the beach, make an area where kids can have nice eating space, picnic-style at the beach |
| 12.30 - 13.30 | BESC Surf training | Kuta/Legian Beach | BESC crew take kids surfing with their level and make sure all kids supervise and safety must video them all |
| 13.30 - 14.00 | Car Loading | Kuta/Legian Beach |   |
| 15.00 - 17.00 | Amplitude skatepark session and Carver Surf Skate | Amplitude | After all finished surf straight to AMPLITUDE, this where the kids will learn how to skate surfing must bring shoes and other skate gears |
| 18.00 - 20.00 | 6 pm dinner | Kosta House | After shower all kids dinner |
| 20.00 | 8 pm Rest | Kosta House | Quiet time and sleep |
|   |   |   |   |
|   | Wednesday 7th July: day 4 |   | Start of 5 days camp |
| 7.00 | Wake up time | Kosta House | All kids must ready with all their stuff, boards, leash, rashie, sunscreen, bags, sandals |
| 7.00 | Groms check in Kosta House | Kosta House | Day 5 Camp join Greeting by Camp Manager |
| 07.00 - 08.00 | Breakfast | Kosta House | after all kids prep their surf gears, they all ready for breakfast at Kosta Seminyak |
| 08.30 - 09.00 | Car Loading | Kosta House |   |
| 09.00 - 12.00 | BESC Surf training | Kuta/Legian | Surf filming and coaching |
| 12.00 - 12.30 | Lunch |   | Lunch Box at the beach, make an area where kids can have nice eating space, picnic-style at the beach |
| 12.30 - 13.00 | Car Loading | Kuta/ Legian Beach |   |
| 14.00 - 15.00 | BESC Video Analysis |   | BESC crew set their video analysis at Finss and all kids must get their train and help them improve for all levels |
| 15.00 - 17.00 | Bounce at Fins recreation club and Aerial Surf Lesson |   | After the analysis session straight to BOUNCE for aerial training with BISA |
| 18.00 - 20.00 | Dinner |   | After shower all kids dinner |
| 20.00 | Rest |   | Quiet time and sleep |
|   |   |   |   |
|   | Thursday 8th July: day 5 |   |   |
| 7.00 | Wake up time |   | All kids must ready with all their stuff, boards, leash, rashie, sunscreen, bags, sandals |
| 07.00 - 08.00 | Breakfast | Kosta House | after all kids prep their surf gears, they all ready for breakfast at Kosta Seminyak |
| 08.30 - 09.00 | Car Loading | Kosta House |   |
| 09.00 - 12.00 | BESC Surf training | Kuta / Legian Beach | Surf filming and coaching |
| 12.00 - 12.30 | Lunch | Kuta / Legian Beach | Lunch Box at the beach, make an area where kids can have nice eating space, picnic-style at the beach |
| 12.30 - 13.00 | Car Loading | Kuta / Legian Beach |   |
| 14.00 - 15.00 | BESC Video Analysis | Finns Recreational | BESC crew set their video analysis at Finss and all kids must get their train and help them improve for all levels |
| 15.00 - 17.00 | Balawista Surf Life Saving Course | Finns Recreational | After the analysis session straight to SPLASH for lifesaving training with Balawista |
| 18.00 - 20.00 | Dinner | Kosta House | After shower, all kids dinner and also this is the KIDS PARENT Movie nite (GP Camp Movie) and LA BARACCA Pizza nite |
| 20.00 | Rest | Kosta House | Quiet time and sleep |
|   |   |   |   |
|   | Friday 9th July : day 6 |   | Start of 3 days camp |
| 7.00 | Wake up time | Kosta House | All kids must ready with all their stuff, boards, leash, rashie, sunscreen, bags, sandals |
| 7.00 | Groms check in Kosta House | Kosta House | Day 3 Camp join, Greeting by Camp Manager |
| 07.00 - 08.00 | Breakfast | Kosta House | after all kids prep their surf gears, they all ready for breakfast at Kosta Seminyak |
| 08.30 - 09.00 | Car Loading | Kosta House |   |
| 09.00 - 12.00 | BESC Surf training | Kuta / Legian Beach | Surf filming and coaching |
| 12.00 - 12.30 | Lunch | Kuta / Legian Beach | Lunch Box at the beach, make an area where kids can have nice eating space, picnic-style at the beach |
| 12.30 - 13.00 | Car Loading | Kuta / Legian Beach | Make sure nothing left behind, make sure all kids ready for the skate session and all surf stuff tidy at the basket |
| 13.30 - 17.00 | Waterboom Aquatic Park | Waterboom Aquatic Park | All kids go to WATERBOM |
| 18.00 - 20.00 | Dinner | Kosta House | After shower all kids dinner |
| 20.00 | Rest and ready for COMP the next day | Kosta House | Quiet time and sleep |
|   |   |   |   |
|   | Saturday 10th July day 7 |   | Competition Day |
| 5.00 | Wake up time | Kosta House | All kids must ready with all their stuff, boards, leash, rashie, sunscreen, bags, sandals |
| 05.00 - 05.30 | Breakfast | Kosta House | after all kids prep their surf gears, they all ready for breakfast at Kosta Seminyak |
| 05.30 - 06.00 | Car Loading | Kosta House |   |
| 06.00 - 16.00 | BESC Surf training and ready for the comp | Kuta / Legian Beach | BESC Comp coaching |
| 08.00 - 16.00 | Competition | Kuta / Legian Beach | All kids supervise by BESC for their competition strategy |
| 12.00 | Lunch | Kuta / Legian Beach | Pizza at the beach by La Baracca the beach, make an area where kids can have nice eating space, picnic-style at the beach |
| 17.00 | Back to Kosta Hostel | Kosta House | relax and swimming at Kosta Hostel, Gameday |
| 18.00 - 20.00 | Dinner | Kosta House | After shower all kids dinner |
| 20.00 | Rest and ready for COMP the next day | Kosta House | Quiet time and sleep |
|   |   |   |   |
|   | Sunday11th July: day 8 |   | Competition Day |
| 5.00 | Wake up time | Kosta House | All kids must ready with all their stuff, boards, leash, rashie, sunscreen, bags, sandals Note all BAGS and ALL BELONGING MUST be PACKED ready for parents to picked up at Kosta House or at Beach |
| 05.00 - 06.00 | Breakfast | Kosta House | after all kids prep their surf gears, they all ready for breakfast at Kosta Seminyak |
| 06.00 - 16.00 | BESC Surf training and ready for the comp | Kuta / Legian Beach | BESC Comp coaching |
| 08.00 - 16.00 | Competition | Kuta / Legian Beach | All kids supervise by BESC for their competition strategy |
| 12.00 | Lunch | Kuta / Legian Beach | Pizza at the beach by La Baracca the beach, make an area where kids can have nice eating space, picnic-style at the beach |
| 17.00 - 19.00 | Grom Patrol Beach presentation | Kuta / Legian Beach | All winners and finalists ready for the Grom Patrol award |
| 19.00 | All Kids pick up by their parents at the beach | Kuta / Legian Beach | All kids must ready with all their stuff, Note all BAGS and ALL BELONGING MUST be PACKED ready for parents to picked up |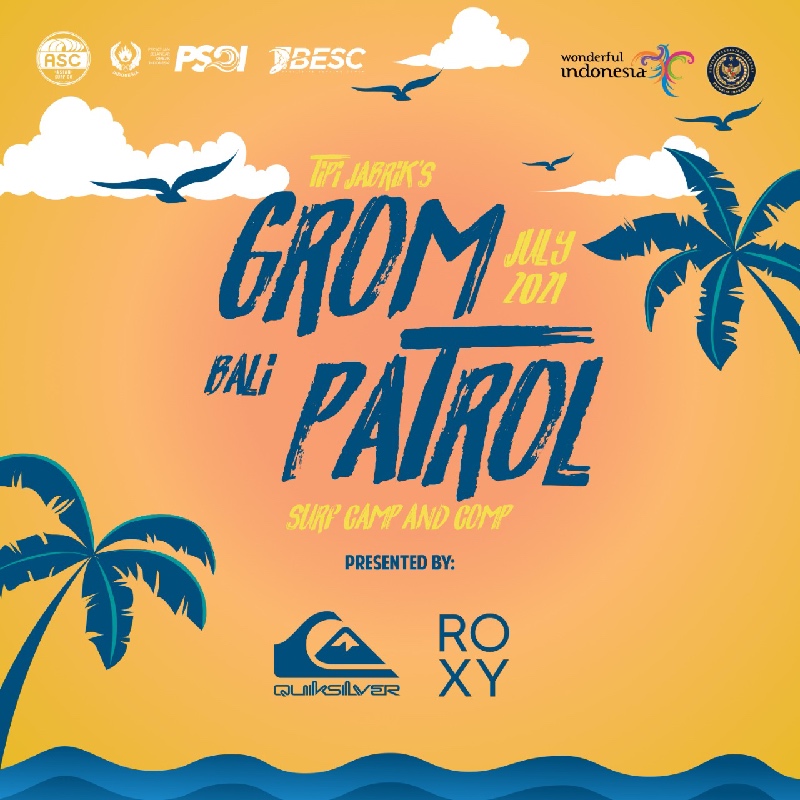 Venue Details
Kosta Hostel Seminyak
Jalan Dewi Saraswati III, No.77 Kunti 2
Seminyak, Badung, Kuta, Bali, 80361