Island Talks – VOL. 7 'The Journey' Barefoot Bonfire BBQ & Talk Story
05:30pm, Thu 24th Sep 2020
General Admission
Includes 3 courses of meal and cocktail on arrival
Sales Closed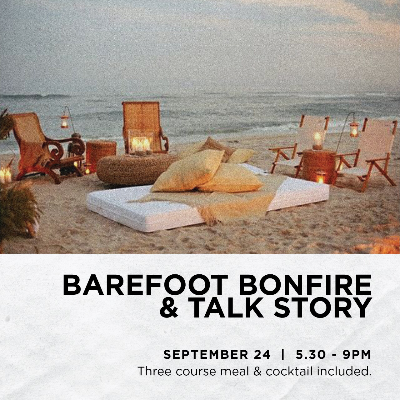 Venue Details
The Lawn Canggu
Jl. Pura Dalem, Canggu
Canggu, Canggu, 6000
Island Talks – VOL. 7 'The Journey' Barefoot Bonfire BBQ & Talk Story
05:30pm, Thu 24th Sep 2020
Come put your feet in the sand, watch the sunset over the Indian ocean and nestle by the bonfire as you enjoy our 7th edition of 'Island Talks' where we take you to the foreshore of Canggu beach for 'Barefoot Bonfire BBQ & Talk Story'.
Our two world-class guest chefs, Chef Stephen Moore of Asia Land & Sea and Chef Jethro Vincent of 8 Degrees will be coming together for a once-off customized three-course seafood-inspired menu joined with our very own Kristina Virinda, regarded as one of Bali's top mixologists, who'll join the boys to serve up some refined tropical cocktails. 
You'll also get a little insight into how their journey's all came about, they're passion for their trade, and their view on just where the food & drink culture is headed as they're joined on the couch with host and founder Tai Graham for a live talk. 
Tickets are limited, so don't miss your chance to experience a night to remember and one sure to sell out quickly.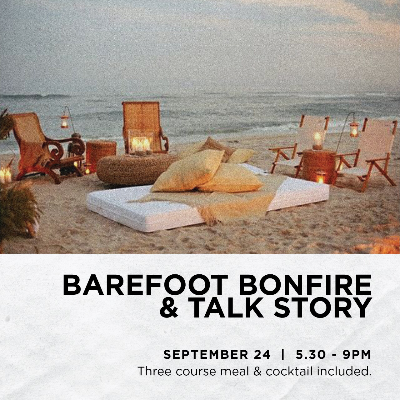 Venue Details
The Lawn Canggu
Jl. Pura Dalem, Canggu
Canggu, Canggu, 6000