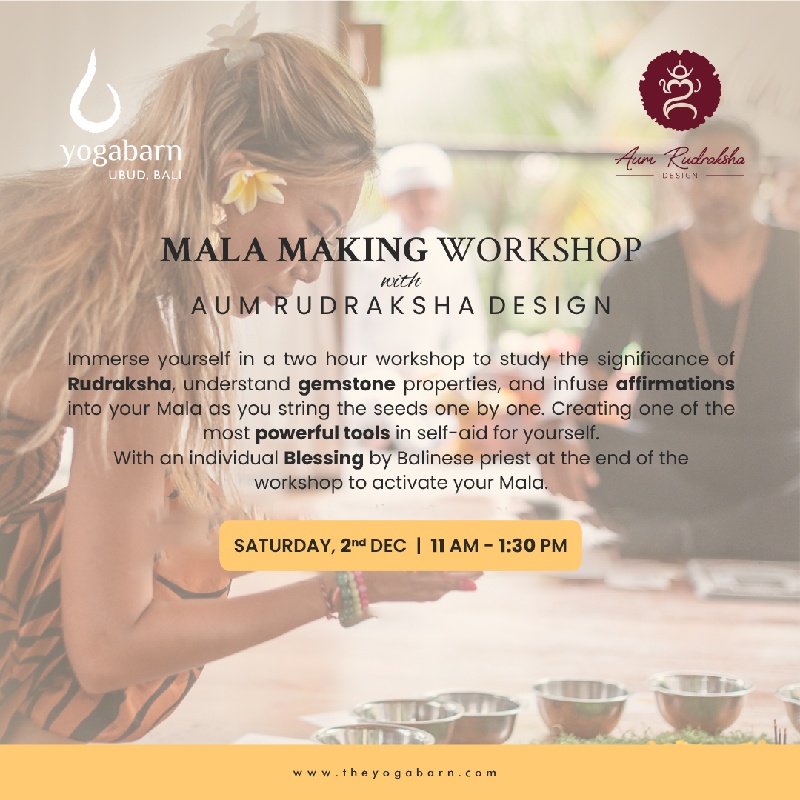 Venue Details
The Yoga Barn
The Yoga Barn
Ubud, Bali, 80571
Sacred Rudraksha: Mala Creation & Activation Workshop
Biweekly Sundays at the Yoga Barn with Aum Rudraksha
December 2nd & 23rd
11.00am - 01.30pm
Price: IDR 750,000
 
"In the yogic tradition, Rudraksha are considered as the "Tears of Shiva," and are much more than just a piece of jewellery, they are considered an instrument for spiritual transformation."
Creating your own Mala is an extraordinary experience in Bali, made so by the potency and divine energy of the Rudraksha seeds.
Like a Rosary, a spiritual Rudraksha Mala that is used for prayer and meditation typically consists of 108 beads. In the Hindu tradition, it is believed that anyone who wears these beads has the blessings of all the three divine Hindu gods i.e., Brahma, Vishnu, and Mahesh, with him. In addition, it is believed that Rudraksha absorb and amplify positive energies, help individuals to align with their intentions, while increasing spiritual connection, reducing stress, and enhancing overall well-being.
In this workshop, we invite you to experience Bali on a deeper level and guide you in creating your personal Mala, where you will string your intentions together to generate the energy you need to transform personally. 
You will be able to learn more about the benefits of the Rudraksha, and gemstones, as you thread your personalized Sacred Mala. 
The visual beauty and known energetic influence of the Rudraksha beads, combined with the variety of precious gems, are made all the more significant by your handpicked selection. 
At the workshop's end, we sit with a Balinese priest to bless our Rudraksha Malas and activate them.
Join this joyful and meaningful workshop hosted by Aum Rudraksha Design at The Yoga Barn.
NOTES:
If you have any issues with online payments, please email 

[email protected]

 or WhatsApp The Yoga Barn Hotline (+62) 811 3983 789  We're here to help!
Registration and payment can also be made at The Yoga Barn Reception
If you see ticket sales are closed for the Event, contact us by WhatsApp to see if there is still space available!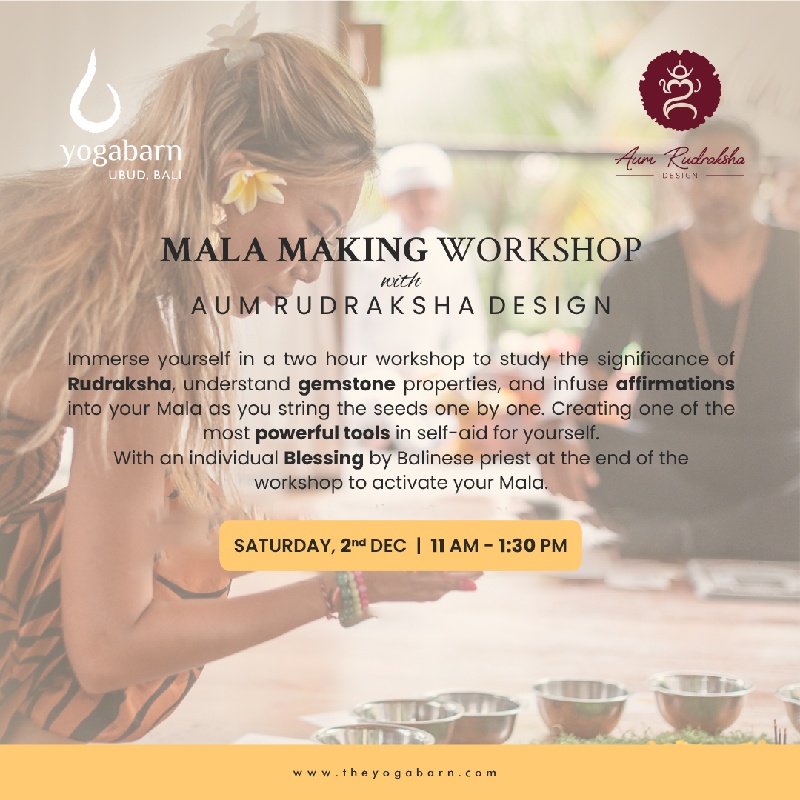 Venue Details
The Yoga Barn
The Yoga Barn
Ubud, Bali, 80571