No-Location Workshop: Retreat Planning 101
09:00am, Sat 7th Dec 2019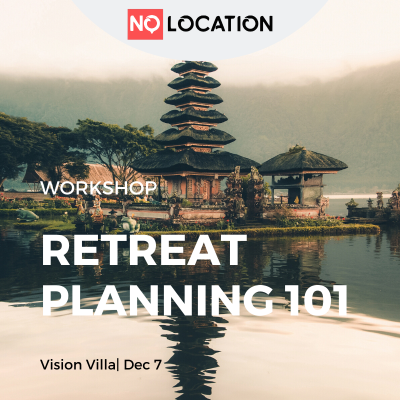 Venue Details
Vision Villa Resort Spa
Jalan Pantai Masceti
Gianyar, Bali, 80581
No-Location Workshop: Retreat Planning 101
09:00am, Sat 7th Dec 2019
In this one day workshop, we will share our insights from A-Z how you can plan your retreat in Bali

Here are some of the topics we will cover during the workshop
※ Difference between Workshop VS Tour VS Transformational Retreat
※ How to translate your uniqueness into transformational retreat in Bali
※ Retreat Planning timeline
※ What are the special activities and unique experiences in Bali
※ How to plan excursions for your retreat that aligned with your goal
※ How to legally run retreats in Bali
※ Insurance for you and for your participants
※ Legal forms for your trips
※ How to research for venues in Bali
※ How to choose the right venues for your retreat
※ What to know before you put down the deposit for your venues
※ How to budget your retreat and set ticket price for your retreat
※ How to value your work and get paid
※ How to set a cancellation policy so you can save money
※ How to not lose money when receiving money from your clients and also paying your suppliers in Indonesia
※ How to fill your retreat fast
※ How to make people talking about your retreat - the power of word of mouth
※ Visa Requirements for you and for your participants
※ How to prepare nourishing meals for your retreats
※ How to create a smooth agenda
※ How to work with local - understanding Balinese culture

Apart of the workshop, you will also get FREE resources such as
◊ Bali Logistics Checklist
◊ Retreat Project Management Template
◊ Retreat Pricing Calculator Sheet
◊ Bali Venues Checklist
◊ List of Retreat Centers in Bali
◊ Agenda Template
◊ Liability Form Template

INVESTMENT:
All this you can get it for
400,000 IDR Per Person
Include: Vegan Lunch, Coffee break, handout materials and templates

For more information please contact info@no-location.com or via whatsapp +62 822 4227 1965 (Oly)

ABOUT NO-LOCATION:
No-Location, is your one-stop-shop to bring your group to Bali. We will handle everything for you, starting from accommodations, tours, airport transfers, meals, laundry, staffing and many more. So you can focus on what is important for you - your program and creating experience for your participants.

ABOUT THE VENUE:
Vision Villas Resort
https://goo.gl/maps/TxfmNRNCJPUBuzn56
Vision villas is the first entrepreneur resort in Asia. Motorbike and car parking are available in the resort

SHUTTLE
We also provide shuttle from Coco Mart Pengosekan to Vision Villas Resort. please book the shuttle via megatix

If you wished to spend a night at Vision Villas, please let us know and we can get you a discounted price Please enter a description here...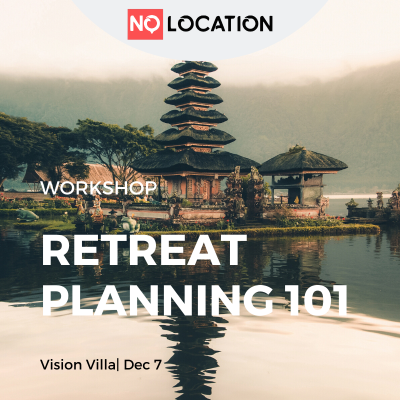 Venue Details
Vision Villa Resort Spa
Jalan Pantai Masceti
Gianyar, Bali, 80581