Ron Josol LIVE at Rosalita's Cantina Seminyak
18+
08:00pm, Mon 20th Mar 2023 - 10:00pm, Mon 20th Mar
This event has already taken place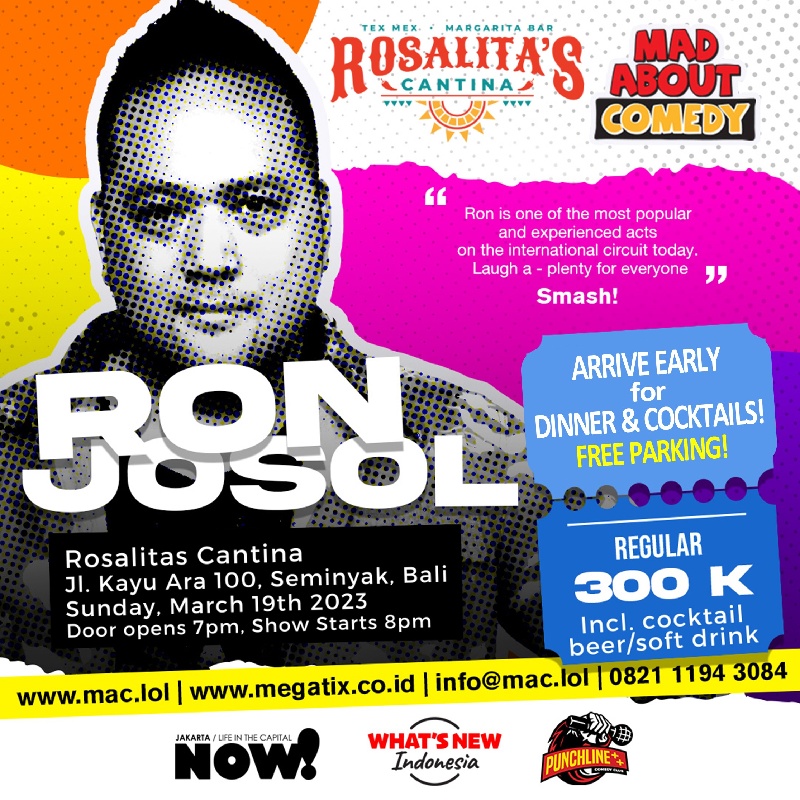 Venue Details
Rosalita's Cantina
Seminyak Square
Seminyak, Bali, 80361
Ron Josol LIVE at Rosalita's Cantina Seminyak
18+
08:00pm, Mon 20th Mar 2023 - 10:00pm, Mon 20th Mar 2023
ARRIVE EARLY FOR PRE-SHOW COCKTAILS AND DINNER! FREE PARKING!
FREE PARKING!
Ron Josol is a hugely accomplished Canadian comedian who is well received in every corner of the world. Ron stirs up and messes with the multi-cultural melting pot that mirrors life in most urban centers today. He presents hilarious scenarios and comments on our global society's inherent contradictions by combining "one-liner" and "story telling" styles. He regularly performs in Canada, the UK, Scandinavia, the Caribbean, Asia, the Middle east, Australia and the USA. He has performed around the world for over 20 years and has become one of the most popular and vibrant comics working on the professional internatoional circuit today.
Just for Laugh festival 6 times

1998 he was the winner of the "Just for Laughs" Ontario, Canada

2011 Ron has been nominated for best male comedian in Canada

2012 nominated for Best male performance

Kings n Queens festival in Malaysia and Singapore 2010

The Magners comedy festival in Asia,  2012

The LOL comedy festival in the Caribbean, 2010

Winnipeg Comedy Festival, 2004, 2014

The Maui ALT Comedy Festival. 2015

Showtime Arabia Specials 2006, 2007

Showtime Special USA, 2009

"Gotham Comedy Live" in New york on ASXtv, 2013

Comics Unleashed, 2014

Carson Daly show for NBC 2014

Comedy central special in Asia, 2016

Kevin Hart LOL show. 2016

Slanted Amazon Prime 2020

Just For Laughs Festival 2021
Get your tickets now!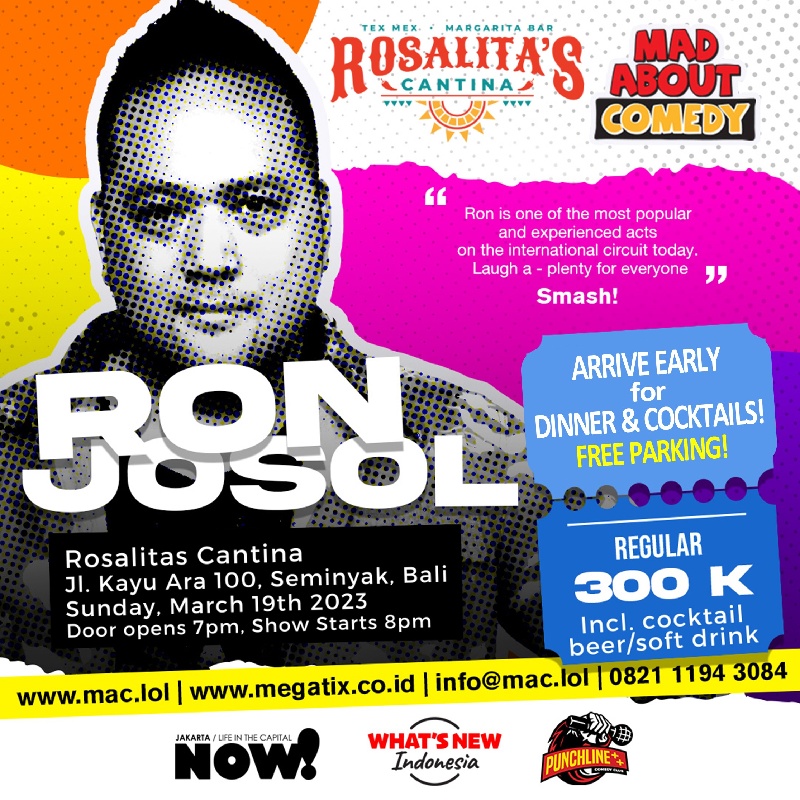 Venue Details
Rosalita's Cantina
Seminyak Square
Seminyak, Bali, 80361