Secret Sunrise Bali – Back to Joy
06:30am, Sat 1st Oct 2022
This event has already taken place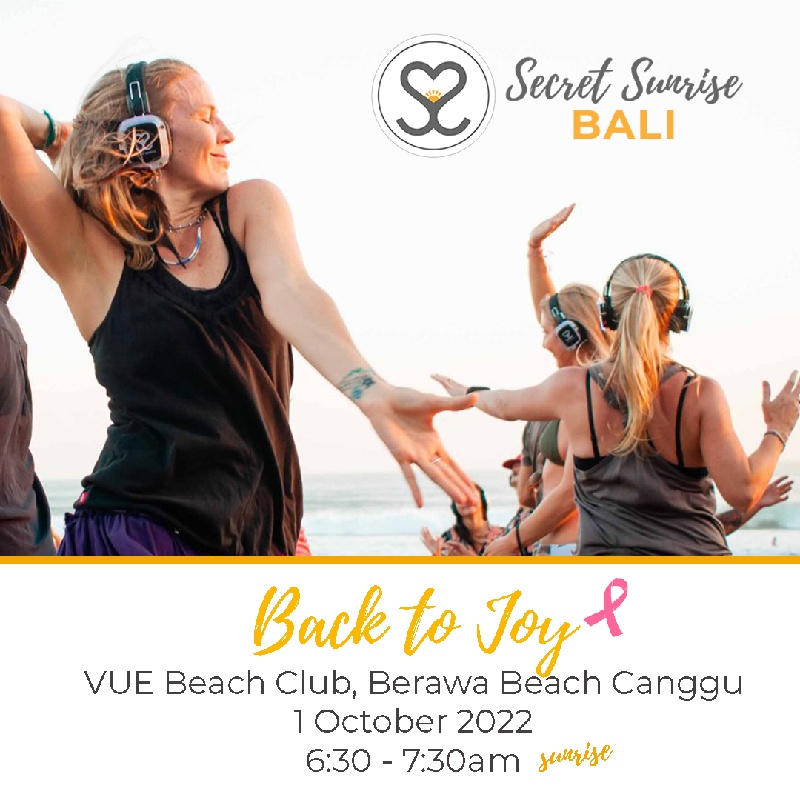 Venue Details
VUE Beach Club
Jalan Pantai Berawa 100XX
Canggu, Bali, 80361
Secret Sunrise Bali – Back to Joy
06:30am, Sat 1st Oct 2022
Secret Sunrise is a global movement celebrating life through music, movement, and connection. We welcome the day the best way we know how – by dancing together like no one is watching, with the sand beneath our toes, letting our inner child come to the party.
After over two and a half years of silence, Secret Sunrise Bali is back with a BACK TO JOY session on Berawa Beach! All body types, ages, and fitness levels welcomed!
We will be dancing on Berawa Beach right in front of VUE Beach Club, who are kindly offering a 10% off breakfast promotion for smoothies and healthy Breeze menu, as well as coffee and tea for only Rp.35k for Secret Sunrisers who would like to stay and enjoy the VUE afterwards.
October is Breast Cancer Awareness Month, and we will be donating a portion of the proceeds from all our public dances this month to Bali Pink Ribbon, a non-profit organisation supporting women and their families living with breast cancer in Bali. 
Details
Date: Saturday 1 October
Time: 06:30am - 07:30am
Location: In front of VUE Beach Club on Pantai Berawa
What to bring: A bottle of water, a sarong or towel to sit or lay down on, a smile, and an open mind :)
What to wear: It's Breast Cancer Awareness month, so we invite you to wear all the shades of PINK that you can find in your wardrobe! We will be dancing for 60 mins, so please make sure you can move freely.
Where to park: There is ample parking at Lv8 Resort Hotel. Please walk through the hotel corridor to VUE Beach Club, where you can access the beach.
New to Secret Sunrise?  
What to expect
On arrival, you will be given a pair of wireless headphones so that you can truly feel immersed in the music (and so we don't create any noise pollution).
Our skilled facilitators will then guide you for 60 mins through a joyful journey that encompasses mindfulness, dancing your heart out, connecting with others, connecting with yourself, playing like a goofball, and connecting with Mother Nature. 
Quoted by TimeOut magazine as being "the happiest way to start your day", this global movement has been joined by over 50,000 people from all parts of globe – and we hope you will join us!
Ts & Cs
Disclaimer: Secret Sunrise Bali, its facilitators, employees, venues, associated partners and service providers will not be held liable for any loss, theft, or damage to personal property or to self.
By purchasing your ticket to one of our sessions, you acknowledge and understand the terms of attending. Tickets are non-refundable.
For any questions or issues with purchasing, please contact: bali@secretsunrise.com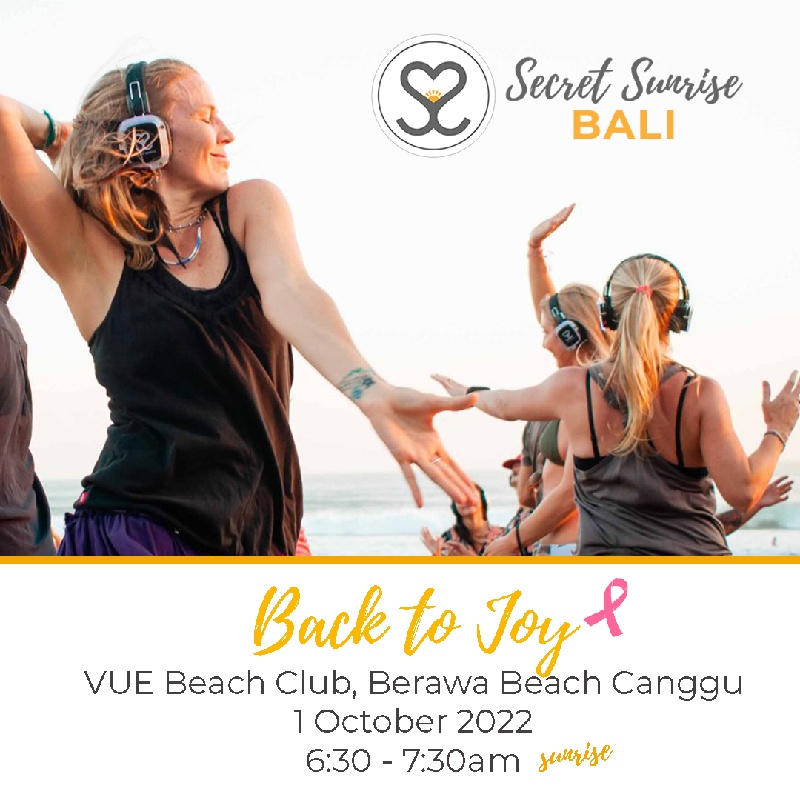 Venue Details
VUE Beach Club
Jalan Pantai Berawa 100XX
Canggu, Bali, 80361