Spirit Night: Tea Ceremony & Healing Music Edition
05:30pm, Sat 18th Dec 2021
This event has already taken place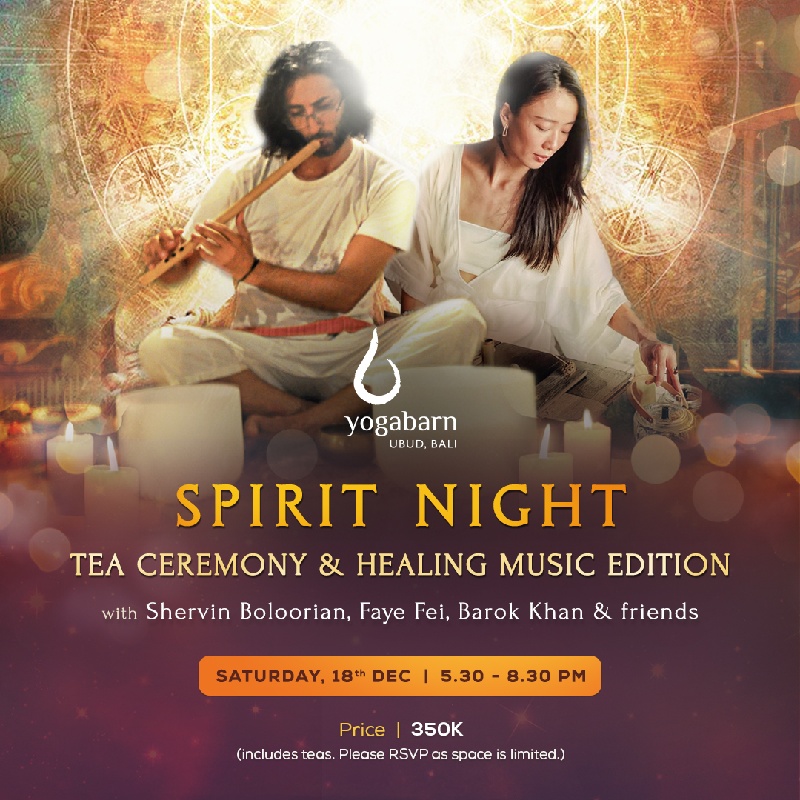 Venue Details
The Yoga Barn
Jln. Raya Pengosekan
Ubud, Bali, 80571
Spirit Night: Tea Ceremony & Healing Music Edition
05:30pm, Sat 18th Dec 2021
with Shervin Boloorian, Faye Fei, Barok Khan & friends
A special ceremonial evening of traditional Chinese tea, songs of peace, live music from different world traditions, enchanting Kuan Yin dance and a mystical sound journey infused with indigenous and ethnic instruments.
About Shervin:
Born in Iran, Shervin Boloorian is Ubud's award-winning vocal music artist and sound therapist, who in 2017 released a groundbreaking Sufi-inspired album "One with the Beloved." Composed of original music and melodies inspired by Rumi's wisdom, the album builds cross-cultural understanding between Iran and the West to prevent conflict. His album launched a 13 country tour and was endorsed by Rumi bestseller, Coleman Barks.

About Faye Fei:
A professional choreographer and dancer, she has lived in Beijing for 19 years and worked with some of the most celebrated cultural figures in China, including Zhang Yimou. 
While enjoying her urban life, there has always been a seed hibernating in her heart, waiting to awaken——spreading the art and Tao of tea. 
Bali became the perfect land for it to germinate. 
Since coming to Bali two years ago, Faye has been serving tea, spreading the art and etiquette of tea ceremony, transmitting the Tao of Oriental tea culture
constantly to the communities in Ubud, Uluwatu and all over Bali.  
Faye's talent of holding a beautiful space in the flow of tea makes her one of our most beloved tea ceremonialists in Bali.

About Barok Khan:
A man of faith and exceptional talent, Barok Khan is one of Bali's top multi-instrumentalist performers. Barok was born in Java and founded the "Saharadja" world music band. He is also one third of the Funky Baba trio and performs Kalimaya Fusion tunes. He serves as Music Teacher at Canggu Community School in his spare time. His wide variety of instrument musicianship includes: Indian Tabla, Sitar, Sarod, Banjo, Violin , Clarinet, Spanish Guitar and percussion. As a Solo performer he is known as Classic Barok.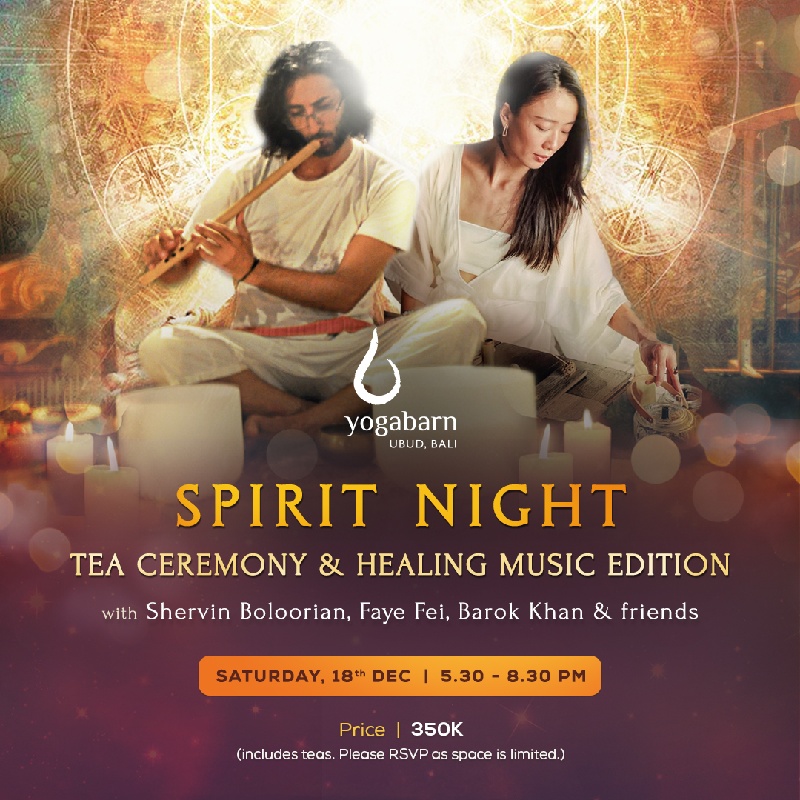 Venue Details
The Yoga Barn
Jln. Raya Pengosekan
Ubud, Bali, 80571