Tantra Essence "Mystic Kiss" with Sarita
18+
10:00am, Thu 8th Jun 2023 - 10:00pm, Thu 8th Jun
This event has already taken place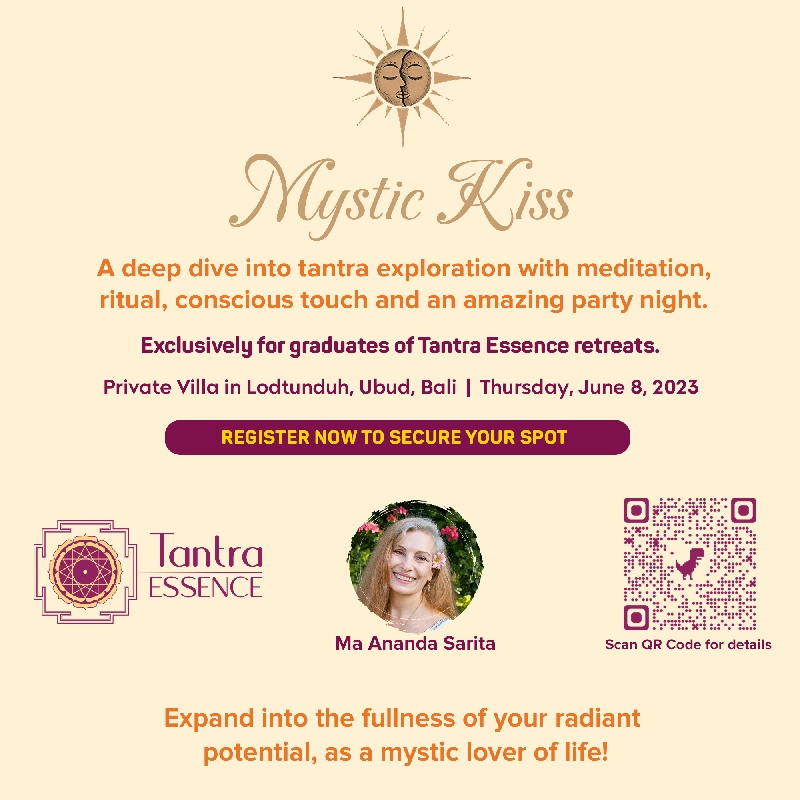 Venue Details
Private Mansion
Lodtunduh
Ubud, Bali, 80571
Tantra Essence "Mystic Kiss" with Sarita
18+
10:00am, Thu 8th Jun 2023 - 10:00pm, Thu 8th Jun 2023
It is a great joy to invite the Tantra Essence tribe for the 2nd Mystic Kiss day event on Thursday June 8 in Ubud.
The term 'Mystic Kiss; indicates a secret and sacred transmission offered by a master to his or her devotees. It indicates an advanced transmission for seekers on the path.
This is an exclusive event for graduates of Tantra Essence retreats. 
Sarita will be offering a deep dive into Tantra Exploration, with meditation, ritual, conscious touch and an amazing party night. 
This gathering is designed for those who are ready to embrace your divine nature from multiple angles, whether that be through your senses, kundalini energy, the chakra system, solo and partner practices. During our Mystic Kiss one day event, you are invited to enjoy and to expand into the fullness of your radiant potential, as a mystic lover of life! 
Bring yoga clothes you can sweat in, a sarong, a blindfold, dance clothes, and white clothes for a ritual. Also bring massage body butter, a massage sheet and sarong to cover with. 
Timing for the event will be: 
10:00am arrival and orientation
11:00am Mahamudra Meditation (wear white) 
1:00pm Lunch 
2:30pm conscious touch / massage 
4:30pm Pod Sharing / group sharing 
5:30pm Dinner 
7:00pm Shiva Shakti Yantra Ritual (wear white) 
9:00pm Dance Celebration 
10:00pm end of the event
Your payment includes the Tantra meditations, activities, tea snack, lunch, and dinner.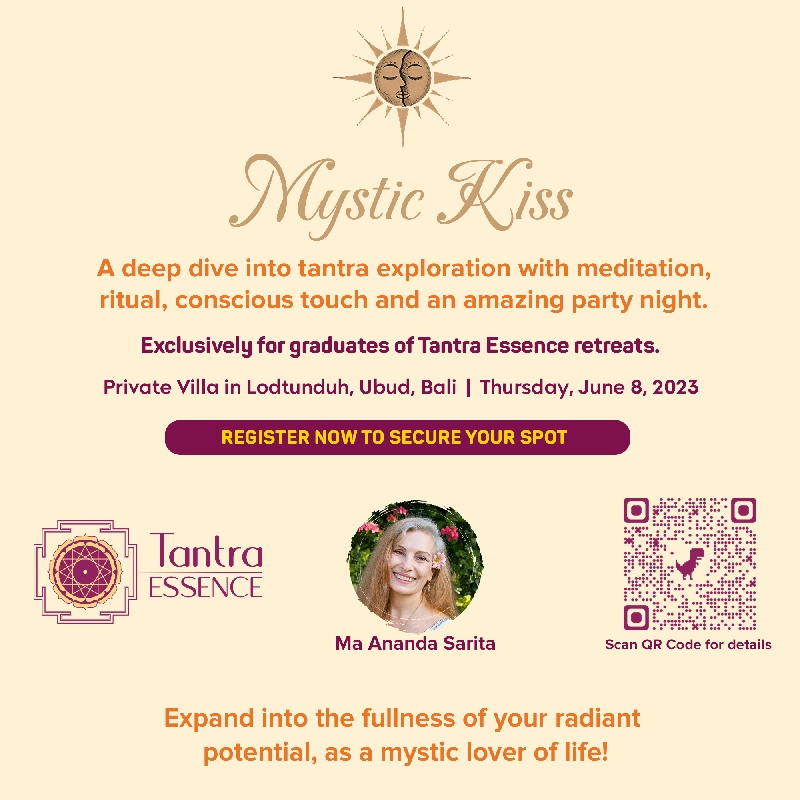 Venue Details
Private Mansion
Lodtunduh
Ubud, Bali, 80571