Unearthed - Poetry & Creative Writing Workshop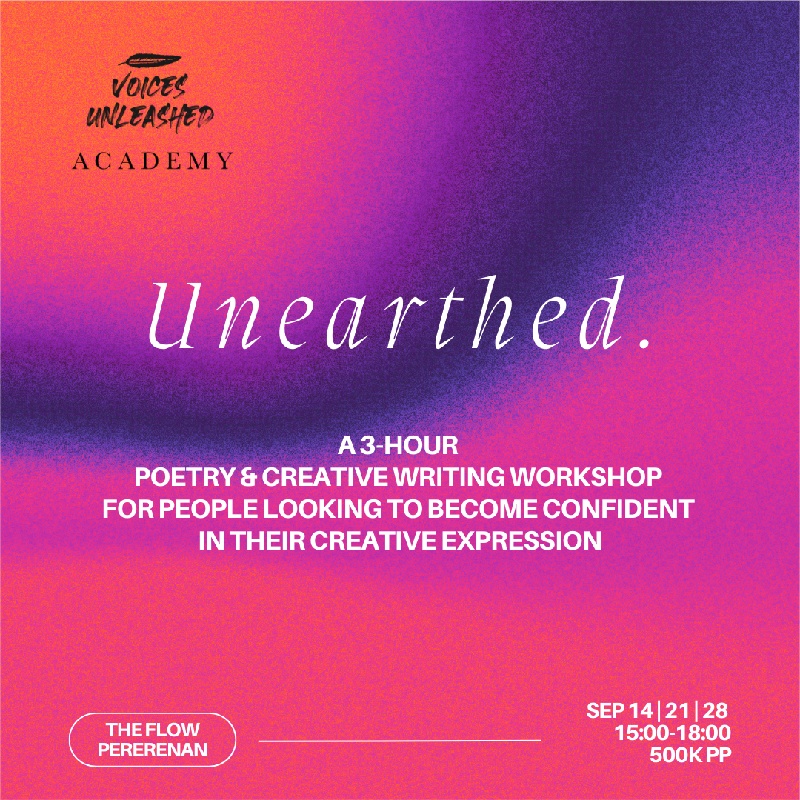 Venue Details
The Flow Pererenan
Jl. Munduk Kedungu No.42 Br
Pererenan, Bali, 80351
Unearthed - Poetry & Creative Writing Workshop
Unearthed: A Poetic Release For Artists, Authors, and Those Seeking to Express
Access your most complex emotions and learn how to become confident in your creative voice in just 3 hours. Release, give shape, and inspire. 

 
Unearthed is your poetic pathway to:
Understand and express deep-seated emotions
Bring authenticity to your expression
Become more confident in your communication
Move beyond personal journaling and give a resonating voice to your feelings
Gain confidence in both writing and public expression
Turn old stories into new perspectives

DATES IN SEPTEMBER | LOCATION: The Flow, Pererenan
Thu. 14th of September - 15:00-18:00
Thu. 21st of September - 15:00-18:00
Thu. 28th of September - 15:00-18:00


Workshop highlights:
✓ A focused 3-hour session designed to unlock your creative potential.
✓ Personal guidance from the founders of Voices Unleashed.
✓ Limitation to just 8 participants to give you our full devoted attention.
✓ Hands-on exercises to refine your writing skills and grasp the art of expression.
✓ A serene setting that nurtures your creativity.
 
Is Unearthed for me?
At its core, "Unearthed" is an invitation to go within and bring out your innate creativity. After hosting more than 30 editions of Unearthed, we've found this space serves best to those looking to explore their creative truth. You can be an artist-to-be, a coach, an author, or someone carrying a story that wants to come out, it's the people most open to dive deep who unearth the gold. In the space of just three hours, you will learn that you CAN write poetry, that you CAN give shape to complex emotions, that you CAN be confident in your expression, and that you realize the strength of your own voice.

 
What Others Said
"I felt instantly comfortable, and I feel that's important when it comes to creative work." - Pia
"The variety of exercises and methods were truly interesting and I'll be back for sure. Anyone doubting, you won't regret it." - Bay
"I realized I can find and be inspired by so many things and whatever needs to come from it, will do so." - Jannika
"I discovered I do have a voice and language worth sharing. And that it's not as hard as I thought to access it." - Francene
"There was a complete transition from how I usually narrate my life, to now drawing from places without hard grooves." - Helena
"Even though I was at my edge, I felt supported. Not pushed, but seen and held in evolution." - Daniella
"The exercises from the workshop opened up a new playful creative side of me to tap in and bring more flow in my creation." - Max
"It let me go into a creative trance, the longer I stay in that phase, the more inventive and the more ME comes out." - Jordan
"I felt very comfortable to share, Unearthed was very valuable to me as a writer where I could also learn from the group as a whole." - Theodora
HOW DO I BOOK?
1. Click on 'Book Now'
2. Choose your preferred date
2. Complete your payment, fill in your name, number and email details.

Our Guarantee:
We believe so much in the outcome of this workshop experience that if, by the end of the session, you don't feel a significant shift in your understanding and expression of emotions through writing, we'll offer you a full refund.
ABOUT VOICES UNLEASHED & VU ACADEMY
Voices Unleashed is one of Bali's leading communities for creative expression. Founded in June 2020 in the midst of the pandemic to provide a platform for people curious to learn how to express themselves better. Whether you're a professional writer or artist or simply want to share more truthfully and creatively, Voices Unleashed supports you on your journey. We do this through events, workshops, retreats, and artist management.

Voices Unleashed Academy is our workshop branch. The Academy only collaborates with proven artists and teachers to offer quality-over-quantity workshops and retreats. Your 'Unearthed' facilitators all have extensive professional backgrounds in performance arts, writing, embodiment, visual art, curriculum design and teaching modalities to ensure you are guided in a pace that's right for you. 
 
Scholarship Spot 
We believe expression is a birthright. That's why our academy offerings have scholarship spots. These spots give free access to people for whom money is a little tight - or need extra support in their creative journey. 'Unearthed' has 1 scholarship spot per session. To apply, DM us on Instagram or Facebook and send in your motivation and any work of art you made.

Contact details
Instagram: @voices_unleashed_ 
Email: [email protected]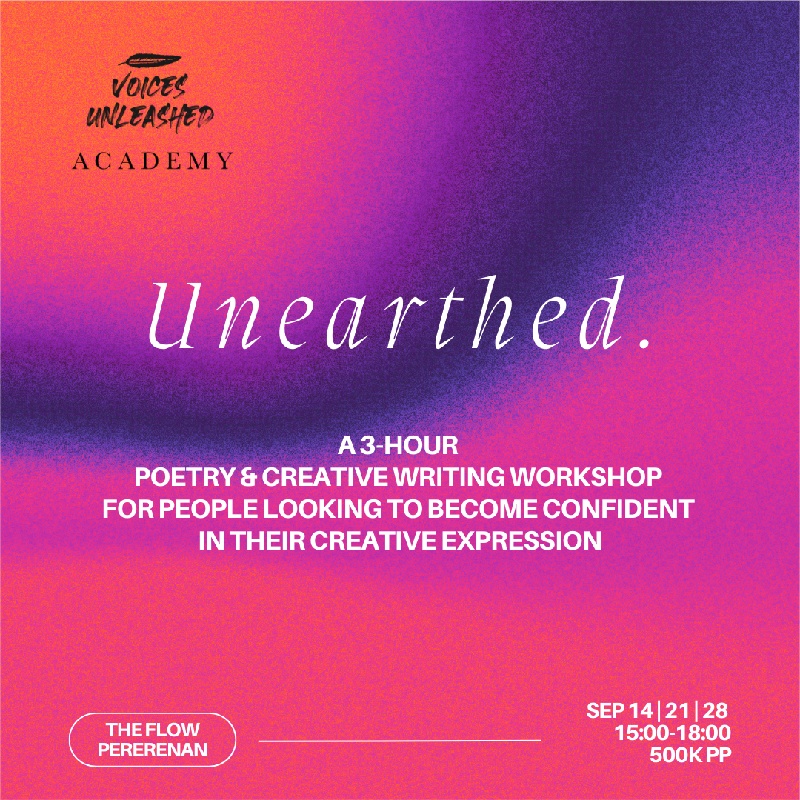 Venue Details
The Flow Pererenan
Jl. Munduk Kedungu No.42 Br
Pererenan, Bali, 80351